In March 2015, the Oregon-based Columbia Sportswear Company partnered with Jämtland Härjedalen Tourism to host outdoor journalists from the U.S., Canada, and Great Britain for unique gear testing experiences in the Swedish region of Jämtland Härjedalen.
During a week of adventure in March 2015, journalists representing the travel, ski and outdoor scene, arrived to Sweden to test Columbia's new Fall 2015 collection in Scandinavian winter conditions.
Skiing in wilderness areas
The program was packed with a variety of activities: fat biking, skiing in wilderness areas, skating on natural ice, an immersion in local Sámi culture, enjoying local gastronomy, visiting research & development labs for outdoor equipment, snow shoe walking in deep forests and of course, taking part in Swedish after ski.
Media program with journalists and bloggers
Representatives from media companies such as Outside Magazine, Freeskier, Backpacker, The Gear Caster, Gear Junkie, SKI Magazine, Gear Institute, Sidetracked Magazine, SBC Skier Magazine, The New York Times, Backcountry Magazine, Ski Canada, Elevation Outdoors and Men's Journal were willing and eager participants of the trip.
Sweden impressed itself on the visitors
Sweden, a destination with a vast array of outdoor experiences, long history of innovation in sports and outdoors, close relationship between culture and nature and culinary revelations of local artisans really impressed itself upon the visitors.
Photo shoot of the new collection
Parallel with the media program, a photo shoot of the new collection took place with young trendsetting skiers and models. Results can be seen in various Columbia marketing assets including retail signage, online imagery, and the Columbia blog in the piece Tested tough in Sweden. The blog also covers pieces about the art of Swedish fika, Swedish candy, the Great Lake Monster, Gastronomy in Sweden, the Winter Sports Paradise of Jämtland Härjedalen, what to do in 48 hours in Stockholm, etc.
Jämtland Härjedalen
The two Swedish regions Jämtland and Härjedalen cooperate when it comes to toursim and present themselves as "Jämtland Härjedalen".
---
  Hotels in Jämtland and Härjedalen
Book now:
Quick links for Åre and Östersund:
---
  Holiday homes in Jämtland and Härjedalen
Wide selection of holiday homes, including cottages, villas, cabins and apartments.
Book now: Holiday homes in Jämtland and Härjedalen
---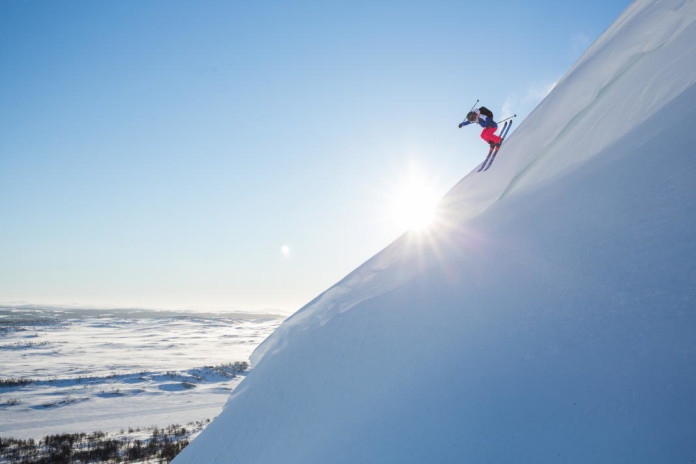 More outdoor adventures
Read our page Outdoor activities in Sweden for more stories and inspiration.
Source: Jämtland Härjedalen Turism; photos: Mark Going, Columbia Sportswear