If you want to go sightseeing, you will find ample opportunities in Sweden's major cities, like Stockholm, Gothenburg, Malmö, and Örebro. Please also visit our section on Sweden's regions for more inspiration on what you can see and do in various places in Sweden.
Here we will suggest some attractions that can be found all over Sweden or that stretch across several regions.
Museums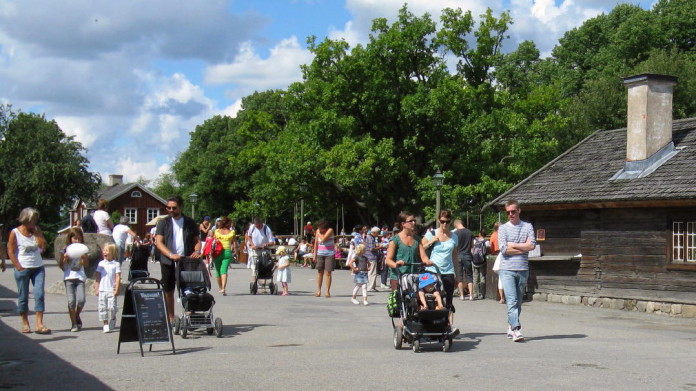 In Sweden you will find a host of museums: historical museums, local museums, science museums, arts museums and even a large number of open-air museums – our picture above is from the world's first open-air museum, the popular Skansen in Stockholm.
In Stockholm you will also find the famous warship Vasa, which sank in 1828 – it can now be seen at the Vasa Museum.
Here you can find an overview over the Swedish museums we have covered.
World Heritage Sites
Sweden has 15 UNESCO World Heritage Sites (as of 2014) – our picture is from the Grimeton radio station in Halland, which was used for wireless telegraphy to the US. Read more: World Heritage sites in Sweden
Lake Vänern
Lake Vänern is the largest lake in Sweden – in the northwest, north and northeast it belongs to Värmland, in the east and south to Västergötland, and in the west to Dalsland. We even have a route suggestion for a Lake Vänern circle tour.
Lake Vättern
Lake Vättern is the second largest lake in Sweden – it forms the border between Västergötland in the west and Östergötland in the east, while it borders on the Örebro region (Närke) in the north and on Småland in the South. See also our route suggestion for a Lake Vättern circle tour.
Sweden's canals
The Dalsland canal at Håverud – Sweden has about 200 canals and waterways, and many are used by leisure boats during the summer season
The Swedish archipelago
Gothenburg's northern archipelago: a view on Hönö Klåva harbour area
With its beautiful, long and richly varied coastline, it is no wonder that Sweden is becoming increasingly popular as a destination for cruise ships from all over the world. The country's extensive coast offers a huge number of destinations well worth going ashore for. At several points the coast is decorated with fantastic archipelagos that ensure superb scenery and constantly changing vistas. Famous are the Stockholm archipelago and the West Coast archipelago – each has its own character, but both reveal unparalleled maritime worlds. Karlskrona in Blekinge also has a beautiful archipelago.
Crafts and flea markets ("loppis")
During the summer you can find crafts and flea markets all over Sweden, even many private garage and yard sales – look out for signs that say "Loppis"
Flea market in Gothenburg
Source for text on the Swedish archipelago: VisitSweden US