In the coastal waters of Bohuslän there are excellent opportunities for kayakers. The rocky coast with its remote outer archipelago and sheltered inner islands is probably one of the most beautiful areas for sea kayaking in Sweden. You will find desert islands with white sandy beaches, narrow sounds, rocks that have been worn smooth by wind and water, high cliffs, and hundreds of picturesque fishing villages such as Fjällbacka, Hälleviksstrand and Hovenäset.
8000 islands and islets
On the coastal route from Gothenburg in the south to the Norwegian border in the north there are around 8,000 islands and islets. This is a paradise for kayakers who are looking for a pristine environment and genuine nature experiences. With great commitment Swedish tourist organisations are trying to position West Sweden as the leading sea kayaking destination in Europe.
Sea kayak tours in Bohuslän
Several kayak rental operators in Bohuslän offer sea kayak tours. Here comes a selection:
The tours offered include day trips to seal banks and island beaches, easy evening trips with picnic and campfire under the midnight sun, as well as advanced "hardcore" multi-day tours all the way up into Norwegian waters. Most kayak rental operators in Bohuslän also arrange individual tours for families and groups.
Winter paddling
Some of the above companies offer tours in winter, too. Paddling around West Sweden's archipelago in the winter is an exhilarating experience. It's deserted, peaceful and simply breath-taking. Birds and seals are braver when the waters are deserted, too – you may even be lucky enough to witness a curious seal swim right up to your kayak!
There's no need to worry about the cold either, as a dry suit and all the relevant kit is usually provided when you book a tour. Just check with one of the kayak rental operators above – especially Skärgårdsidyllen is known for its winter tours.
Paddling in central Gothenburg
If you are staying on the west coast just for a few days or if you feel that Bohuslän is too far away, you can even paddle right in the city centre of Gothenburg. In the harbour opposite the Opera House there is a kayak rental.
---
  Hotels in Bohuslän
Book now:  Hotels, hostels, B&Bs in Bohuslän
---
  Holiday homes in Bohuslän
Wide selection of holiday homes, including cottages, villas, cabins and apartments.
Book now: Holiday homes in Bohuslän
---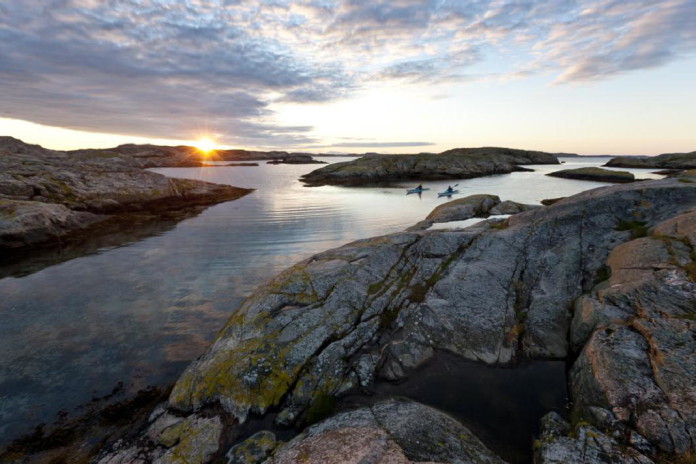 ]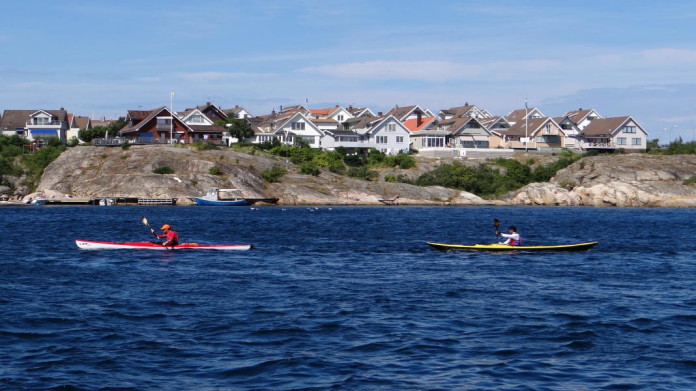 The photos on this page were taken by Henrik Trygg/VisitSweden on a late September day – that is why the kayakers have caps on. The photo from the two kayakers in Smögen (last photo on this page) is our own. Winter paddling info from VisitSweden UK.