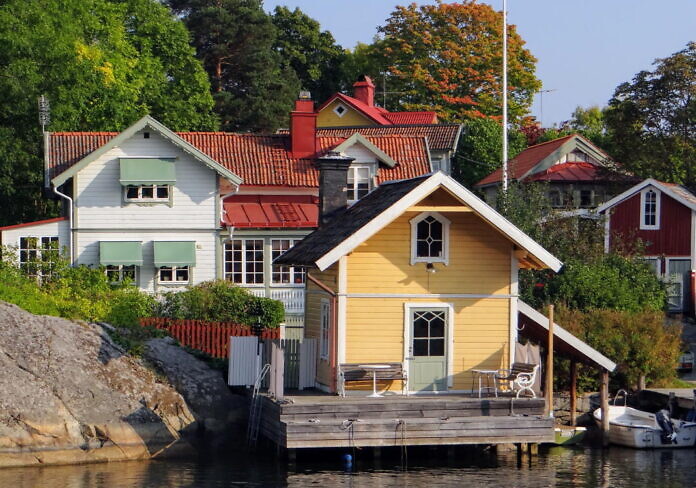 Vaxholm regards itself as the capital of the Stockholm archipelago. In fact, it is a northern junction in the passenger ferry services that connect the countless islands. Moreover, Vaxholm is a cosy little town with shops, galleries, cafés and a very lively hustle and bustle around the many sailing and motor boats.
Fortress "Vaxholms kastell"
The town is also known for its fortress, which lies opposite on the small island of Vaxholmen. Gustav Vasa had it built to secure the northern entrance to Stockholm. The fortress was finished in the year 1863, and today it is a museum and a popular Bed&Breakfast. There is a regular boat connection between the harbour of Vaxholm and the fortress.
Café
A small jewel is Hembygdsgårds Café. The summer café is especially recommended when the weather is fine, when you can sit outside and watch the passing boats. The café is located near the northern harbour, Norrhamnen. There are many old wooden houses in various colours – see our picture at the top of this page.
Uppland and Roslagen
From an administrative point of view the town belongs to the county of Stockholm. Geographically this is the Uppland region. In addition, the coastal strip here is called Roslagen – it stretches from Stockholm's northern suburbs to Norrtälje and up to Östhammar and Öregrund, and we consider it one of Sweden's most beautiful areas.
More info
---
  Hotels in Vaxholm
Book now: Hotels, hostels, B&Bs in Vaxholm
  Hotels in Stockholm
Book now:  Hotels, hostels, B&Bs in Stockholm
---
  Archipelago Lunch Cruise to Vaxholm – 3 hours
Through our partner GetYourGuide you can book an archipelago tour with the S/S Stockholm to the area of Vaxholm. Usually the boat leaves Stockholm at 15:00 (3 p.m.). So it will be a slightly later lunch. When you book, check the departure time for the date you have chosen.
Book now: Archipelago Lunch Cruise to Vaxholm
Would you rather take a boat trip without lunch? Then you will find a popular alternative here: Stockholm Archipelago Cruise with Guide (Note: This tour explores the archipelago in a southerly direction. It is not going to Vaxholm.)
Both tours are offered during the summer and other holiday periods.
---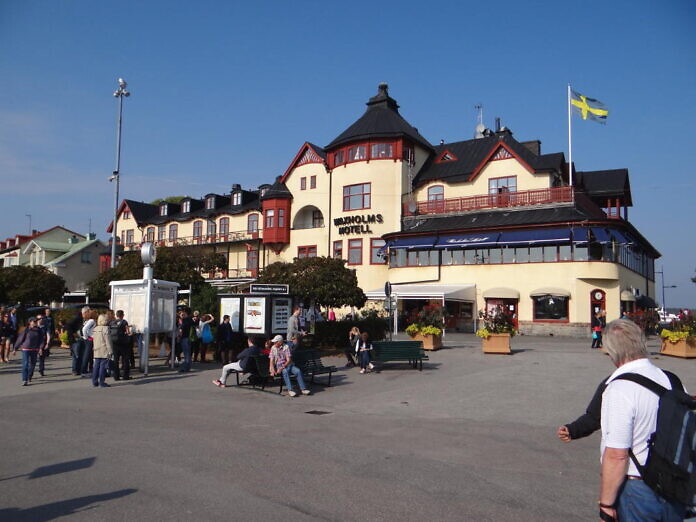 Waxholms Hotell – here the Swedish version of the reality TV series "First Dates" is recorded, very nicely so because the charming staff plays along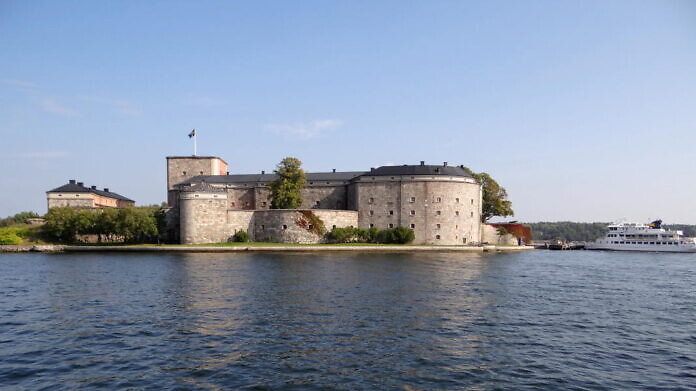 The fortress "Vaxholms kastell"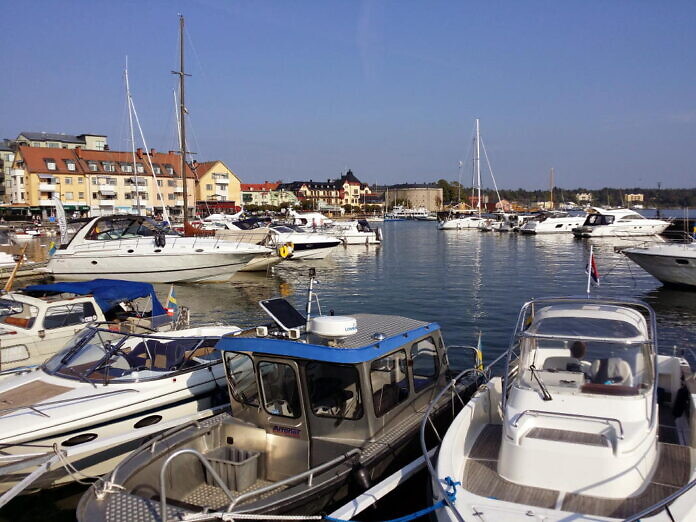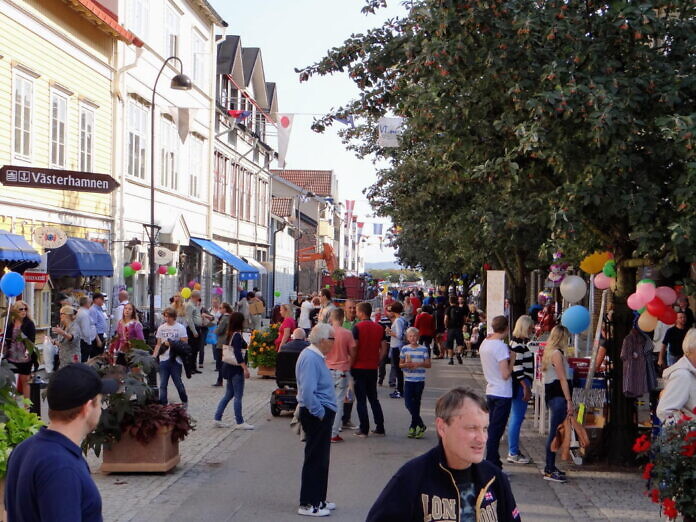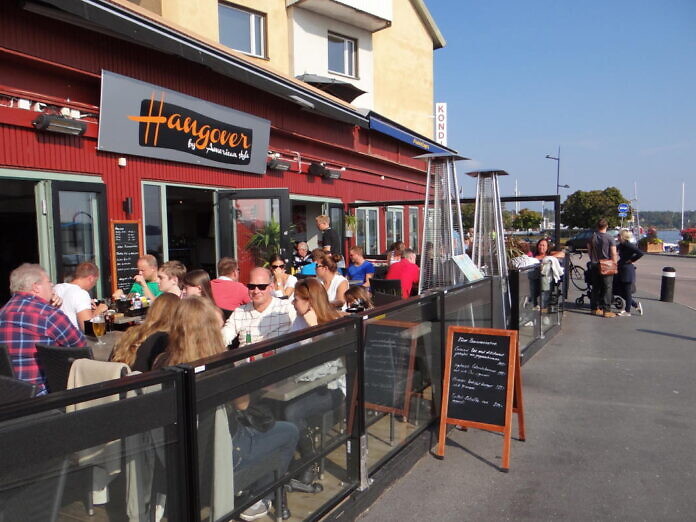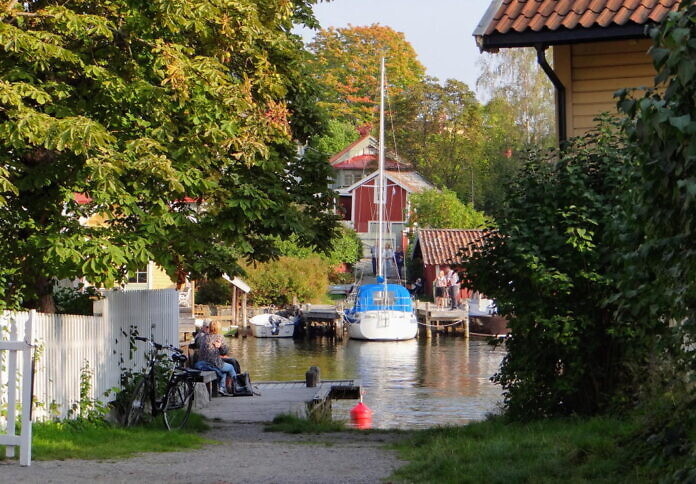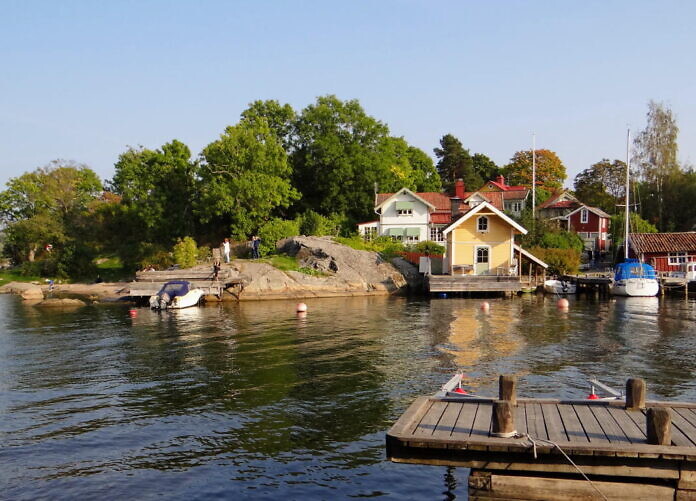 Norrhamnen