In Sweden there is a network of 40 free road ferries. These car ferries are run by Trafikverket's ferry company. Almost all of the ferries are yellow. The ferries are free because they enable people who live far from town to come to their workplaces. (Meanwhile, two ferries have introduced tickets, see details below.)
Interesting for tourists as well
Many of the road ferries operate in beautiful landscape and are therefore highly recommended for tourists. Two striking examples are the short connections between Hamburgsund and Hamburgö in Bohuslän (this ferry is called "Hamburgsundsleden") and between Sunnaryd and Ljungby in Småland ("Bolmsöleden").
We also recommend the free ferry rides in the northern archipelago of Gothenburg. The scenery is particularly beautiful there.
More info
All 40 ferries can be found on a single website (see link below). There is an overview by region ("län"), and you will also find maps and timetables. Current transport disruptions are also listed here. Unfortunately, everything is in Swedish.
https://www.trafikverket.se/resa-och-trafik/trafikinformation/farjetrafik/
Most of the information is available in a map, too:
www.trafikverket.se/trafikinformation/vag/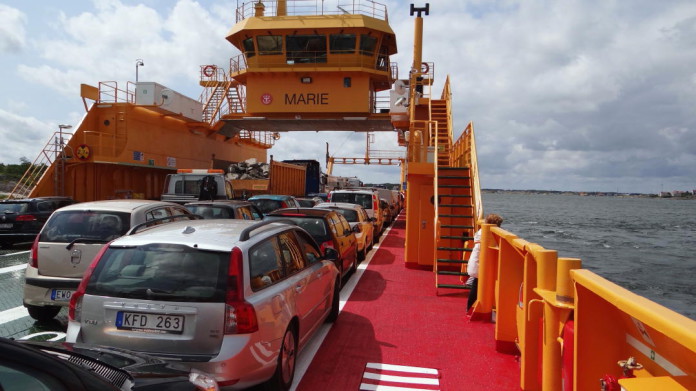 In the northern archipelago of Gothenburg
All 40 Swedish road ferries, from the south to the north
Skåne län
Blekinge län
Gotlands län
Västra Götalands län
Sund Jarenleden
Hamburgsundsleden
Bohus Malmönleden
Gullmarsleden
Ängöleden
Malöleden
Lyrleden
Svanesundsleden
Kornhallsleden
Nordöleden
Björköleden
Hönöleden
Jönköpings län
Bolmsöleden
Visingsöleden (Note: Though this ferry is run by Trafikverket it is not for free – you can get your ticket from the harbour office or onboard, read more here)
Örebro län
Östergötlands län
Skenäsleden
Stegeborgsleden
Södermanlands län
Stockholms län
Furusundsleden
Bildöleden
Ljusteröleden
Vaxholmsleden
Oxdjupsleden
Adelsöleden
Ekeröleden (Note: This ferry is not for free – you need a ticket that you can get from a ticket machine in the harbour, read more here)
Skanssundsleden
Tynningöleden
Uppsala län
Värmlands län
Västernorrlands län
Jämtlands län
Håkanstaleden
Isöleden
Ammeröleden
Västerbottens län
Norrbottens län
Röduppleden
Bohedenleden
Avanleden