The small island of Smögen in Bohuslän has no more than 1,300 inhabitants. During the summer, however, the population doubles. Additional several hundred guests can be found in the harbour on numerous sailing boats and motorboats. In Smögen the peak season is indeed a very busy period.
For over a hundred years Smögen has been a popular seaside resort. In contrast to other resorts such as Varberg (in Halland) or Gustafsberg (near Uddevalla, Bohuslän), the "high society" has never been at home in Smögen. Today many Swedes and Norwegians connect Smögen not only with sailing, motorboating, diving and other water sports, but also with parties, nightclubs, alcohol and amorous adventures. Many rich young people come here on their yachts to party.
Vibrant nightlife
The Smögen Pier ("Smögenbryggan") – an almost 1,000 m long wooden pier – is Bohuslän's biggest summer attraction. Along and on the pier it tends to be very crowded in July and early August. The boats lie in several rows along the pier. The shops, cafés, restaurants, pubs and clubs are jam-packed when the weather is fine.
In the boats it is cramped, too. Some young people sleep on the floor, among bottles, cans, chips and waste. From the pier you can see it all quite well. My then seven-year old son was delighted to see so many bottle posts in the water – I left him in that belief.
Suitable for families with children as well
Fortunately, the island is not only hustle and bustle. In a brochure of the Smögen Pier we can read: "At the end of the wooden pier there is the great swimming spot Vallevik, which invites you to sunbathe on the cliffs and to swim in the sea. There is a diving platform and a protected and safe sandy beach for children. The island has child-friendly sandy beaches and several fantastic bathing spots on the sun-warmed granite cliffs that were once worn smooth by the ice sheet."
---
  The hotel Smögens Hafvsbad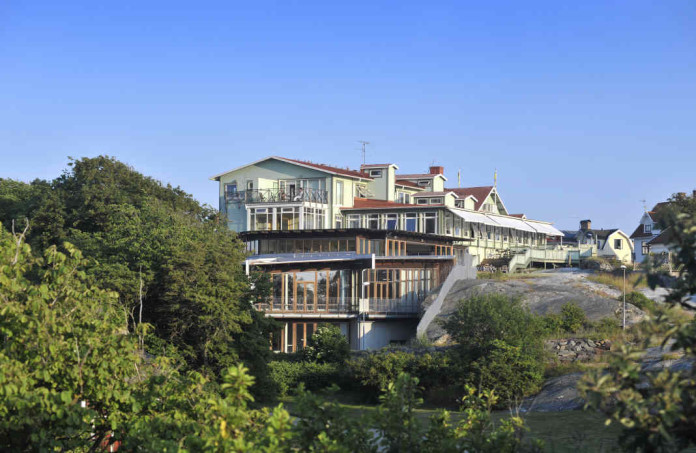 (Photo: Smögens Hafvsbad)
If you want to stay away from the more touristy side of the island, you will find a pleasant and relaxing atmosphere in the highly traditional and sophisticated hotel Smögens Hafvsbad. Smögens Hafvsbad is located high above the island and is considered to be one of the most beautiful hotels in Sweden. The hotel was opened in 1900 and made Smögen a seaside resort.
Book now:  Smögens Hafvsbad
---
Smögen by car, motorboat and water taxi
We visited Smögen by car, in a private motorboat and with the Zita boats, a kind of water taxi that sails from Kungshamn.
Smögen is connected to the mainland via a high and 500 metre long bridge, the Smögen Bridge ("Smögenbron"). On the mainland side, there are rest and parking areas just before the bridge where you can stop and take pictures of the stunning views. Visiting Smögen by car is not cheap, though. Parking near the Smögen Pier costs about SEK 35 per hour (as of 2015).
Getting into the port of Smögen on a motorboat is as a great experience. We kept driving along the pier towards its very end. Here you will find a small bay with one of the most popular Swedish postcard motifs: On the foot of the Ängebacken cliff there are brightly painted fishermen's cottages and boathouses. From the water you can also see again how crowded the guest harbour is. Altogether, there are over 200 berths for yachts and motorboats on this short stretch.
If you only want to visit Smögen for a few hours, you can take the Zita boats from Kungshamn. The ride with the open wooden boats takes around 20 minutes and offers – weather permitting – extensive opportunity to photograph beautiful Bohuslän motifs. Parking in Kungshamn is also significantly cheaper. Right at the waterfront of Kungshamn you can even park for free for two hours.
More info
---
  Hotels in Smögen
Book now:  Hotels, hostels, B&Bs in Smögen
If you prefer to stay at a hostel, we recommend the friendly  hostel in Hovenäset. Hovenäset belongs to Kungshamn. There is a beach not far from the hostel.
---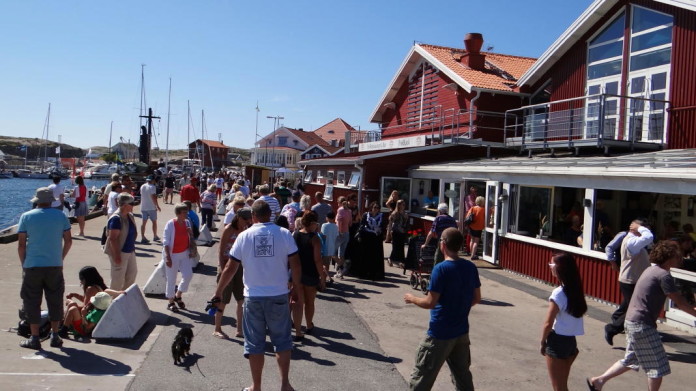 On the Smögen Pier
Approaching the Smögen Pier by motorboat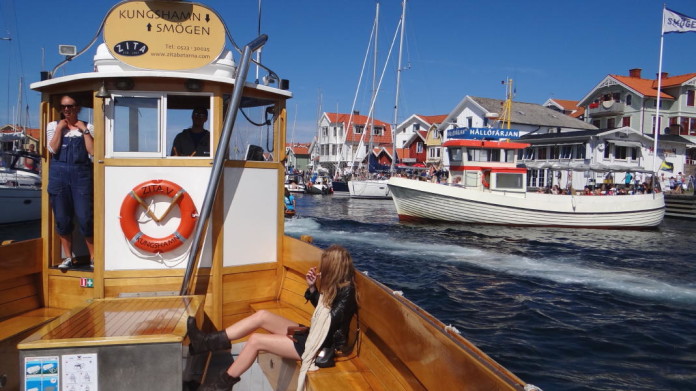 Leaving the Smögen Pier on a Zita boat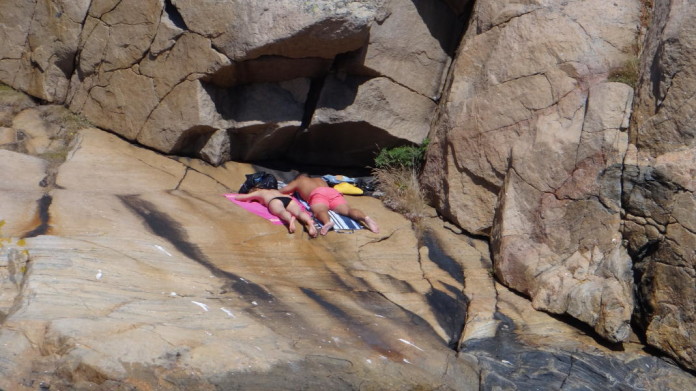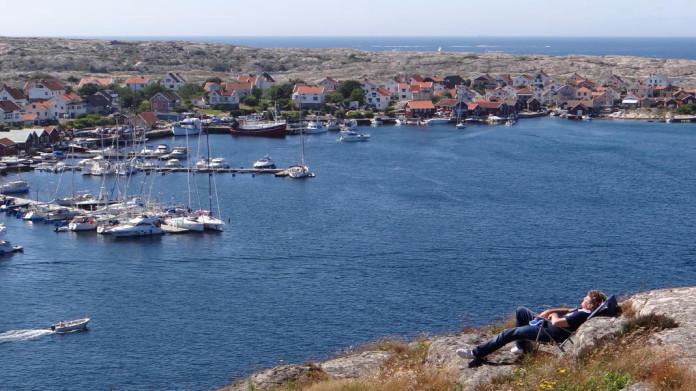 The Smögen Bridge
Our photo on the top of the page shows Ängebacken, at the very end of the Smögen Pier