Sweden is a country of fashion, even though H&M is sometimes reluctant to present itself as a Swedish company in foreign markets. More and more experts speak of a "Swedish fashion miracle".
Since Swedish fashion mail order companies have begun to regard foreign markets as important, you can now get Swedish fashion delivered to many countries.
There are many other internationally famous Swedish brands, including Filippa K, Acne (formerly "Acne Jeans"), Björn Borg, J. Lindeberg, Nudie Jeans, and many more.
Nudie Jeans and Acne Jeans, Gothenburg vs. Stockholm
Nudie Jeans come from Gothenburg. They are alternative, ecological and have a world-changing attitude. This brand reflects Gothenburg's indie, underground and sub-culture.
Acne Jeans, however, are at home in Stockholm – they are high fashion and beautiful but somewhat elitist and snobbish.
Both fashion brands are commercially successful.
The Swedish fashion miracle: Filippa K, KRISS, Whyred
There are about 40 or 50 Swedish fashion labels that are successful, both in Sweden and internationally, and this number is constantly rising. A great many are represented in cities such as London, New York, Hamburg and Berlin. Since 2008 we have kept and updated a list of about 60 companies – you can now read the overview here on Swedentips.se: Swedish fashion labels, designers and brands.
  Swedish fashion resources
If you are looking for a Swedish fashion expert who can provide intelligence, talent programs, seminars, trend guides, reports, networking and inspirational displays, then we can recommend the Swedish Fashion Council. Their website is a good starting point if you want to do some research on Swedish fashion or if you want to interview a Swedish fashion expert: www.swedishfashioncouncil.se
The Association of Swedish Fashion Brands brings together, supports and promotes the Swedish fashion industry: http://asfb.se
The Swedish Association of Designers (Sveriges designer) is a trade organization for professional designers based in Sweden. Members of the organization are skilled designers in one or more of the following areas: Fashion Design, Furniture Design, Graphic Design, Industrial Design, Interactive Design, Product Design, Textile Design, Web design:
www.designsweden.org
The Beckmans College of Design in Stockholm offers three-year BA degree courses in fashion. There are also evening classes, workshops and courses:
www.beckmans.se
The students at Beckmans College regularly organise fashion shows that sometimes are streamed live at www.beckmans.se/modevisning/
Stockholm Modecenter has nearly 200 fashion suppliers representing 480 brands. Stockholm Modecenter is the leading trading place within fashion. It is a unique forum where suppliers and agents can meet buyers and retailers in a modern commercial enviroment that efficiently houses both trade and inspiration, all under one roof. Twice a year the Modecenter arranges Fashion Week at Stockholm Modecenter: www.modecenter.se
Textile and fashion is also one of the areas where the Swedish School of Textiles at the University of Borås carries a national responsibility: www.hb.se/en/The-Swedish-School-of-Textiles/
Textile Fashion Center in Borås: www.textilefashioncenter.se
Textile Museum at the Textile Fashion Center in Borås: www.textilmuseet.se
Marketplace Borås, in the Textile Fashion Center, is a collaboration between Borås city, the University of Borås, Nordic school of design, and the industry and commerce. Together they work to improve their position within the textile, fashion and design industry: www.marketplaceboras.se
Habit magazine, the Swedish fashion trade journal: http://habit.se
TEKO is the Swedish trade and employers' association for companies working in the textile and fashion industry: www.teko.se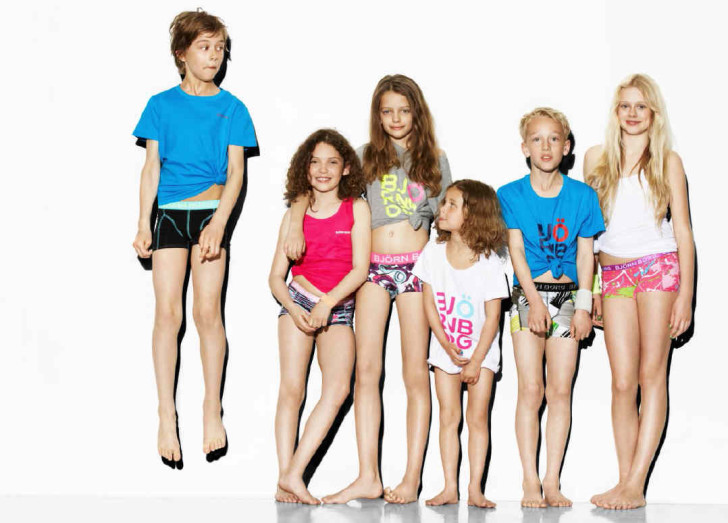 Fashion from former tennis player Björn Borg, even for kids
The essence of Swedish fashion
The essence of Swedish fashion is simple, wearable looks that are both trendy and reasonably priced. The fact that fashion is one of the most popular forms of contemporary cultural expression is obvious in Sweden's prime shopping districts. Swedish fashion often emphasizes cutting edge care for the environment: Many creative initiatives for sustainable fashion are launched here. Take the chance to discover some up-and-coming Swedish brands, but also to visit Swedish giant H&M on its home turf.
Source for this paragraph: VisitSweden US; last photo: Björn Borg AB