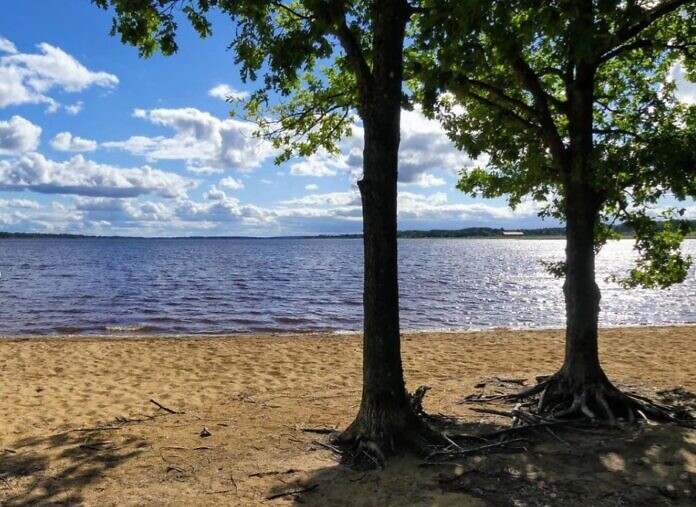 Värnamo is situated in the western part of Småland. The town belongs to a region that advertises itself as "Lake Kingdom of Småland" (Smålands sjörike). Here you find abundant nature to explore and there are great offers for those who like fishing, canoeing, walking, playing golf or cycling.
The river that flows through the town is called Lagan. In the north of Värnamo Municipality lies Store Mosse National Park, which has got a superb visitor centre ("Naturum"). Store Mosse is Sweden's largest wetland south of Lapland.
A region rich in lakes with many bathing places
There are five large lakes surrounding Värnamo: the lakes Hindsen and Rusken (east of the town), the lakes Flåren and Furen (southeast) as well as the Vidöstern (south). All of them have bathing places.
We went to Osudden, a bathing place at the northern tip of Lake Vidöstern. The water here is very shallow. The beach is suitable for small children too. There are toilets here, however there isn't a kiosk so you should bring your own packed lunch. You will enjoy the beautiful views of the lake and the opposite shore – see picture above.
Directly behind Osudden, Lagan River flows into Lake Vidöstern. Here you will find a small guest harbour for motorboats.
Vandalorum, a museum of art and furniture design
Värnamo is renowned for its furniture designers. Källemo and Bruno Mathsson are two well-known furniture design companies that you can visit in town.
This explains why, since 2011, the little town of Värnamo has such a large and fantastic museum of art and design. Strangely, it is called Vandalorum; it is, however, a bright, friendly and very Scandinavian example of modern architecture. The museum was designed by Italian Renzo Piano who drew inspiration from Småland's building traditions and materials.
Vandalorum is located just outside the centre of Värnamo. Take the exit 84 (Värnamo South) from the E4. Here is where Riksväg 27 (Borås – Växjö) meets the European route E4.
The museum also makes for a nice rest stop along the E4. It's a great place for lunch or coffee – and for this you don't have to pay an entry fee. We think that Vandalorum is much more comfortable than any anonymous fast food shop on the E4.
The company Bruno Mathsson has its own small museum in the town centre of Värnamo, the Bruno Mathsson Center on Tånnögatan 17.
High Chaparral
Enter the universe of cowboys and Indians at the Wild West theme park High Chaparral in Kulltorp, located west of Store Mosse National Park, just at the border of the neighbouring locality Gnosjö. High Chaparral has got its own camping grounds. However, the park is only open in summer.
More info
---
  Hotels in Värnamo
Book now: Hotels, hostels, B&Bs in Värnamo
---
  Holiday homes in Småland
Wide selection of holiday homes, including cottages, villas, cabins and apartments.
Book now: Holiday homes in Småland
---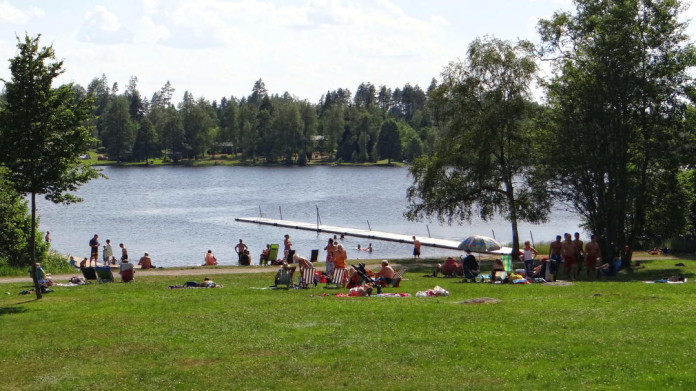 Hjortsjöbadet on Lake Helgasjön in Rydaholm, near the Riksväg 27 national road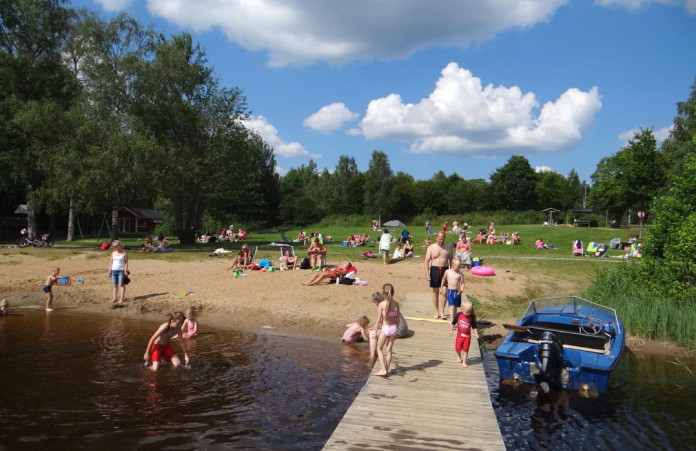 Hjortsjöbadet
The Vandalorum museum
The river Lagan and the Lake Vidöstern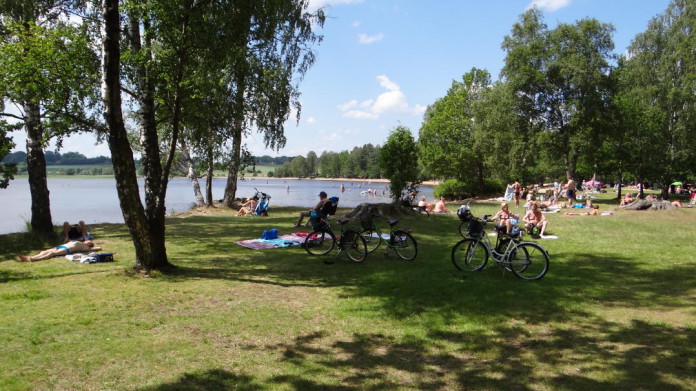 Osudden
Osudden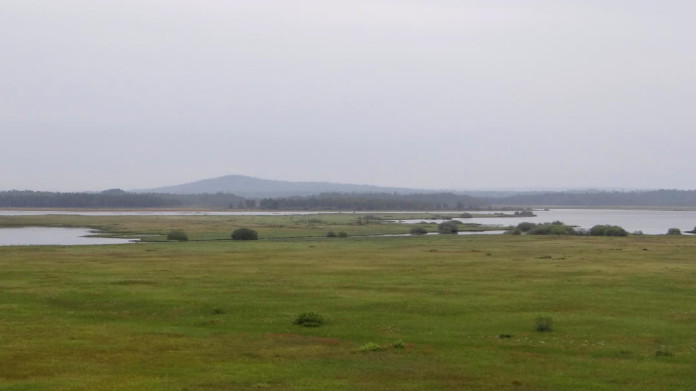 Store Mosse National Park
The photo on the top of the page shows the Osudden beach in late August