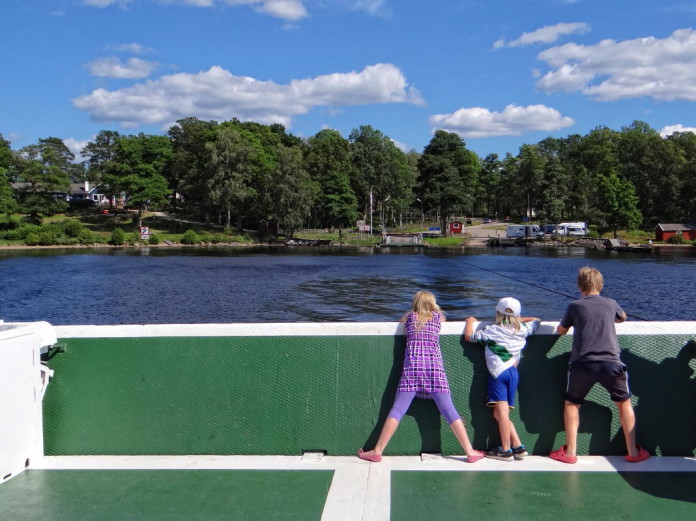 Lake Bolmen is the tenth largest lake in Sweden and one of the most popular tourist destinations in Småland. The lake belongs to the four municipalities Ljungby (in the southeast of the lake), Hylte (west), Gislaved (northwest) and Värnamo (northeast).
People say that the Bolmen has 365 islands, one for each day of the year. In reality, there are probably a few more.
The largest island is Bolmsö. Bolmsö is accessible from Tannåker in the east via a short bridge. From Sunnaryd in the northwest you can also take a small free car ferry to the island. This ferry route across the Bolmen is called "Bolmsöleden".
Sportfishing
The Bolmen is clean and rich in fish. Especially pikeperch, perch and pike can be found. On the western side of the lake there is even a larger fish farm: Tiraholms Fisk in Unnaryd. The farm attracts more and more visitors with every year – now even motorhome tourists because the owners of the farm have prepared a number of plots.
Around the Bolmen by bike or on foot
There is a cycling trail that leads around the Bolmen. It runs partly through forests (beech, oak and pine forests) and partly near the shore. Its total length is about 120 km. You can take this tour in stages and stay in B&Bs or on campsites overnight.
You can also walk around the Bolmen. Just follow the signs "Bolmenmarschen".
Bolmsö
The island of Bolmsö is 18 km long and 3 to 4 km wide. Only 350 people live here. On the island you will find plenty of forests that are good for hiking as well as sandy beaches and pleasant bathing spots. There is also a kayak rental on Bolmsö. In Tannåker you can play tennis – there is also a store, a gas station, and a café. Bolmsö belongs to the municipality of Ljungby.
---
  Hotels by Lake Bolmen
Book now:
---
  Holiday homes in Småland
Wide selection of holiday homes, including cottages, villas, cabins and apartments.
Book now: Holiday homes in Småland
---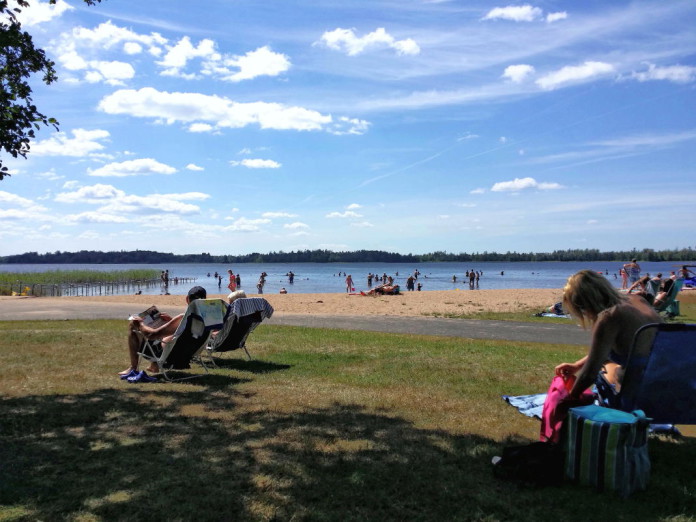 A bathing spot at Lake Bolmen – almost all the beaches are sandy beaches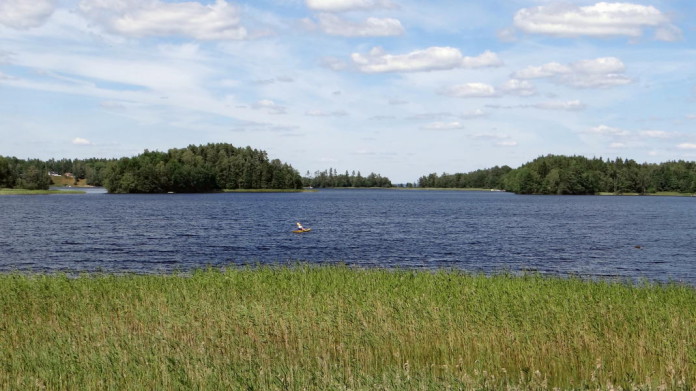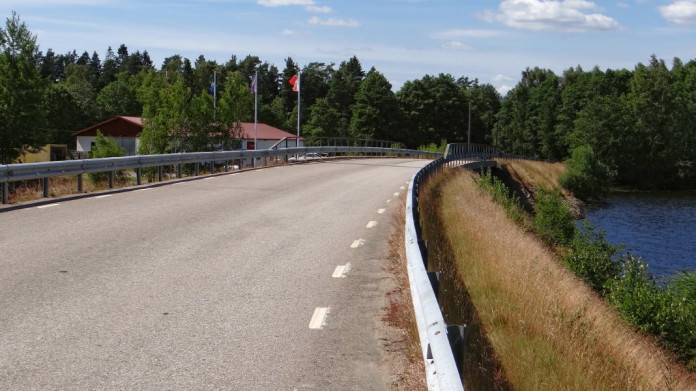 Bridge to the island of Bolmsö (at Tannåker on the eastern shore of the lake)
Church on Bolmsö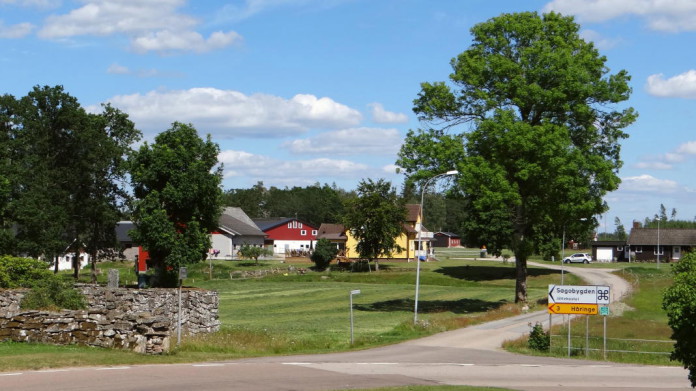 On the island of Bolmsö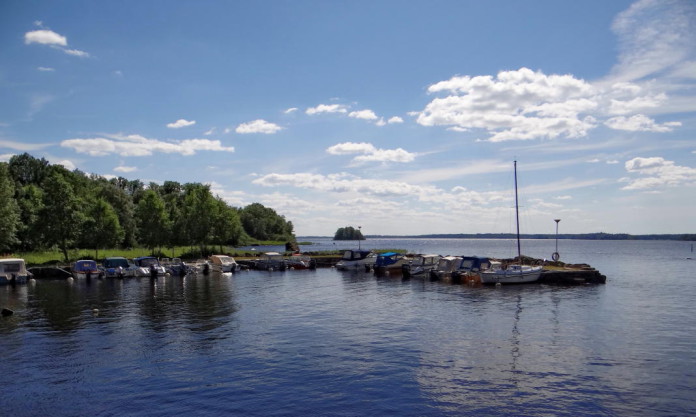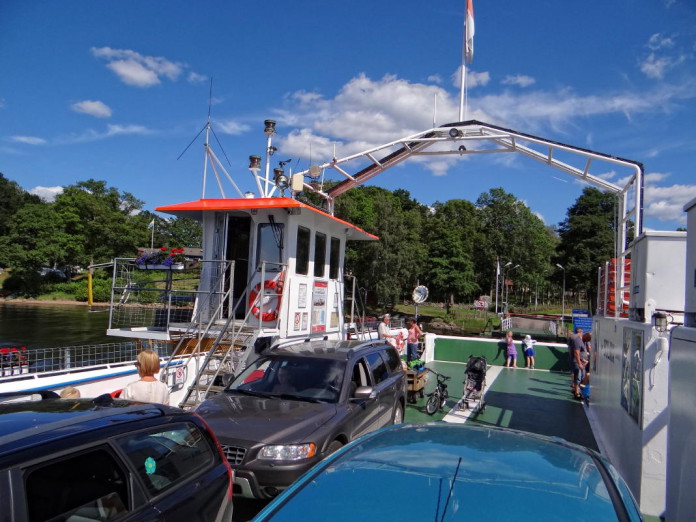 Car ferry from Sunnaryd to the island of Bolmsö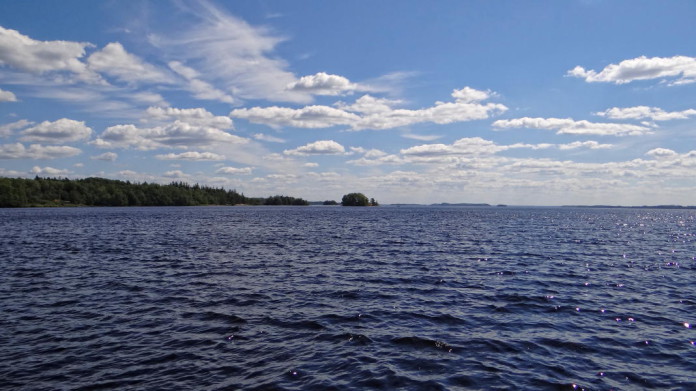 View from the ferry across the Bolmen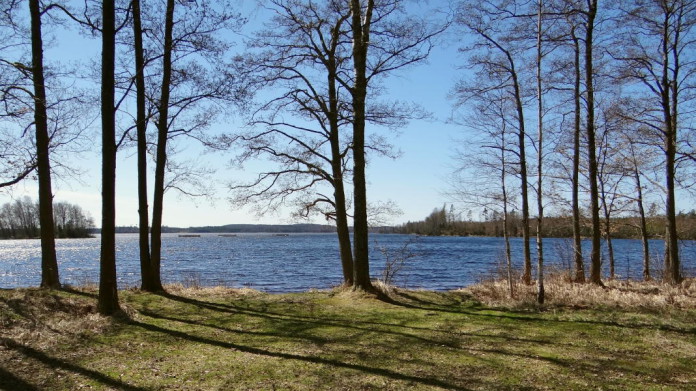 The Bolmen on its western side: In the centre of the picture you can see three circles on the water – they are part of the fish farming of Tiraholms Fisk
The photo on the top of this page shows kids having fun on the car ferry from Sunnaryd to the island of Bolmsö