Yesterday the new multi-sport facility in Kviberg, Gothenburg was officially opened. Now Gothenburg has one of Europe's finest multi-sport facilities, with everything from a ski track and indoor soccer field to a hotel. It's a gigantic investment of about 900 million SEK.
On the 45,300 square metre property there are two sport facilities, life-size indoor soccer field, cafés, elementary school, high school (a soccer school), gym, hotel, restaurants and a 1,200-meter long ski track open all year round. Everything is spread out on seven floors.
Hotel
The Kviberg Park Hotel has 121 rooms with 355 beds, a restaurant and two bars as well as conference rooms. Several rooms are family friendly with four beds. Prices are moderate all year round, not just during the cheaper summer season.
Skidome
What is truly unique with the arena is the Skidome, an indoor ski facility (like the famous Ski Tunnel in Torsby, Värmland). It is 1,200 meters long. There are three parallel tracks – two traditional ones and one for skate. The temperature is at a constant minus 2 to 4 degrees Celsius all year round. You can also rent skis, and there is also ski gear on sale.
At Fred's Ski Lodge you can have a Swedish "fika" or enjoy a lunch with a nice view over the arena through a glassed screen. The gym Nordic Wellness also offers workout classes, childcare, two jacuzzis, steam sauna and massage. (Update January 20017: There are plans now to extend the existing ski tunnel and to complement it with a 360 m long indoor ski slope. However, these plans have not been approved yet.)
"Göteborgs Nya Arena" or "Prioritet Serneke Arena" or "Kviberg Arena"?
On its opening day the new facility changed its name from Gothenburg's New Arena ("Göteborgs Nya Arena") to Prioritet Serneke Arena. Prioritet is the main sponsor of Gothenburg's soccer club IFK, while Ola Serneke is the man behind the new arena.
My guess is that the Gothenburgers will soon come up with something simpler. Why not Kviberg Arena? Or Kviberg Park Arena? Or just Serneke Arena? Well, time will tell on that one. (Update November 20019: Most people seem to be saying "Serneke Arena" today, four and half years after the opening.)
How to get there
The new arena is located in Kviberg, about a 15 minutes' drive from central Gothenburg. The Arena can easily be reached from the motorway E20, exit 76 ("Munkebäcksmotet"). Address: Krutvägen 2, 41 528 Göteborg (map). A tram stop is 500 m away from the arena.
More info
---
  Here you can book the hotel that is part of the facility
Book now: Kviberg Park Hotel
---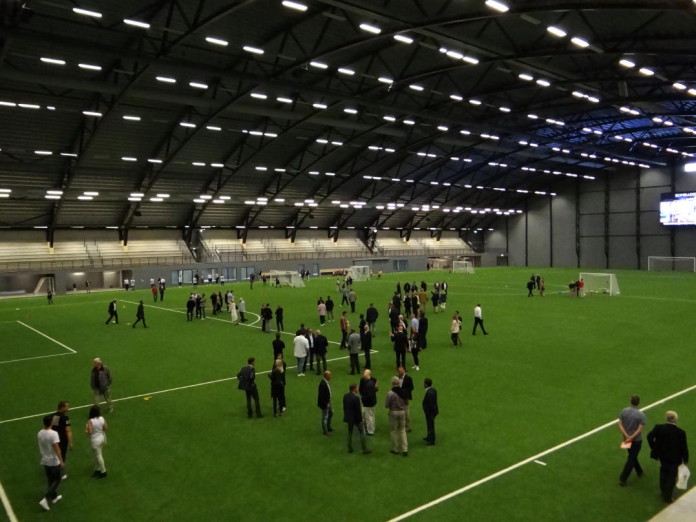 Indoor soccer field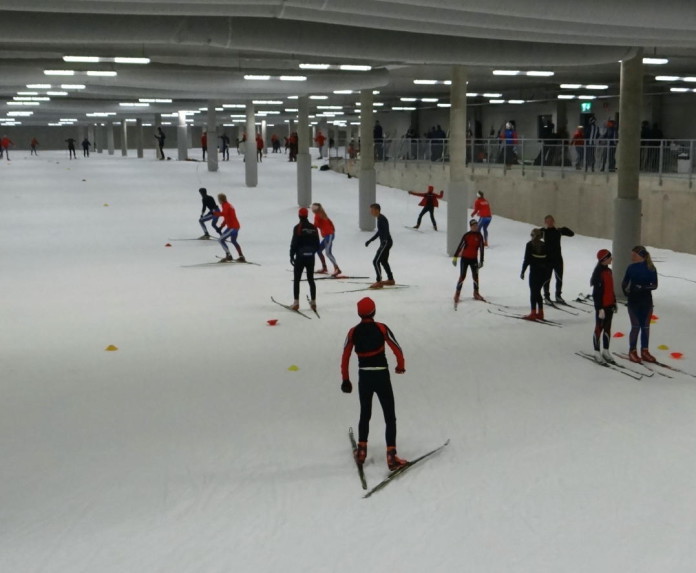 The indoor ski tunnel, named "Skidome"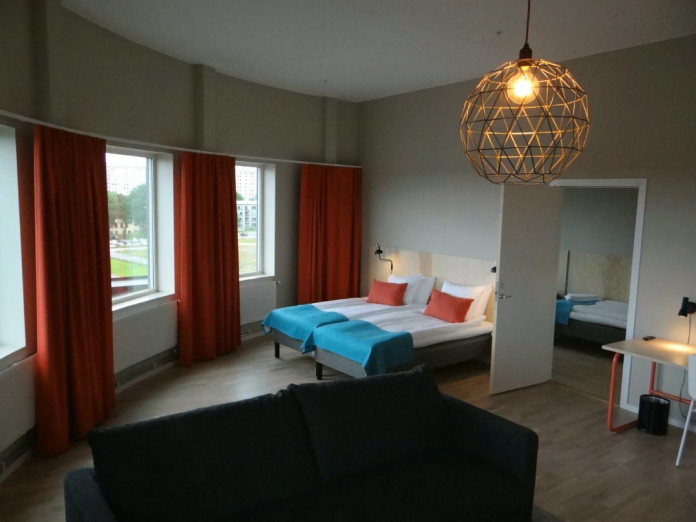 Hotel room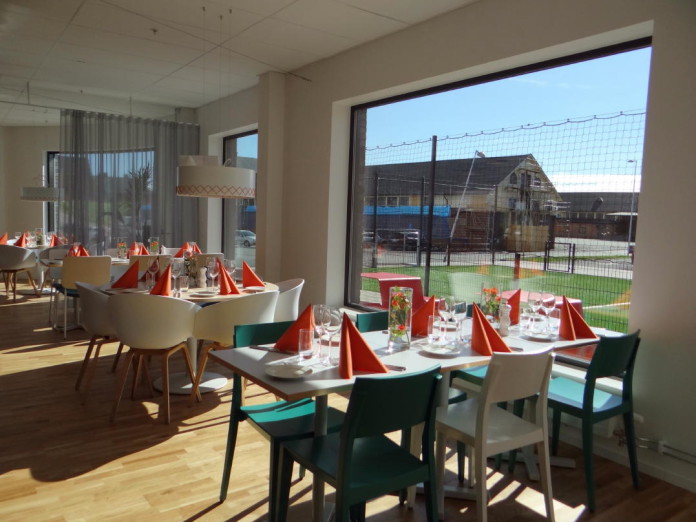 Breakfast room in the hotel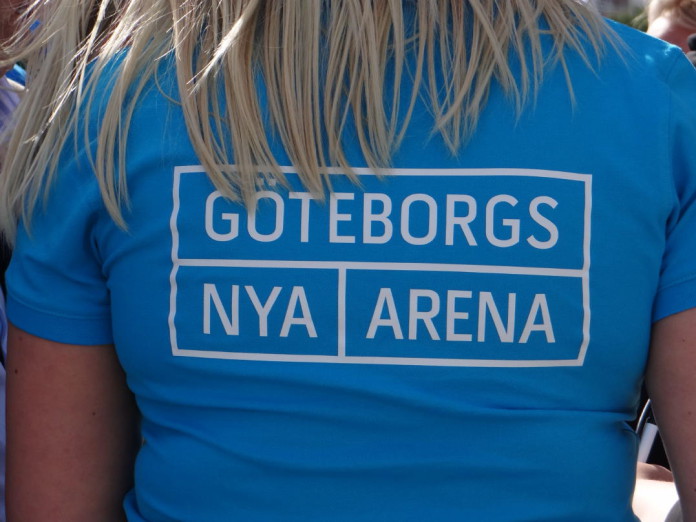 This name changed on the opening day – what will the arena eventually be called by the Gotenburgers?
---
  More hotels in Gothenburg
Book now: Hotels, hostels, B&Bs in Gothenburg
---
Summer and winter side by side: Beach volleyball next to Skidome
Right next to the new arena and the Skidome there is the world's biggest indoor beach volleyball centre. In the summer they play outdoors as well.
Every year the beach volleyball centre attracts 200,000 visitors.
More info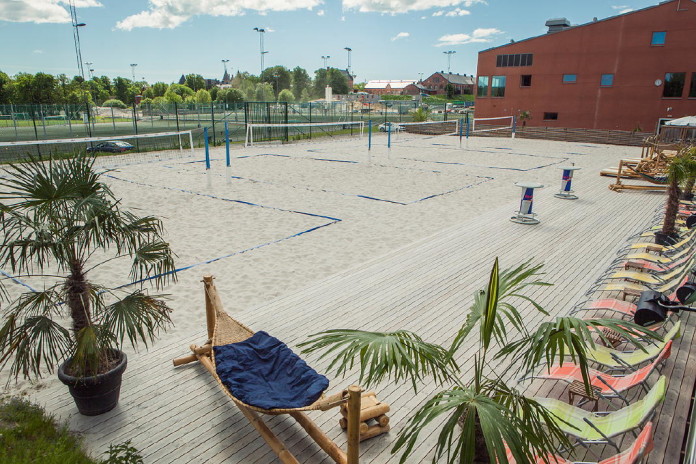 ---
  Hotels in Gothenburg
Book now: Hotels, hostels, B&Bs in Gothenburg
---
Source: We were present at the opening of the Serneke Arena – however, part of our article is also based on material by VisitSweden US. Photos of the Beach Center: Beach Center.