From Malmö in southern Sweden it is about 1,200 km to the southern border of Lapland. Given this distance, it is not surprising that Lapland does not attract mass tourism. Lapland is rather something for individualists who want to enjoy its impressive scenery, long distance hikes (on skis or on foot) and are interested in the rich and diverse culture, history and art of the Sami, the indigenous people of Lapland.
Midnight sun and Northern lights
In the north of Lapland – north of the Arctic Circle – the sun does not set during the summer. In Björkliden, for example, one can play golf in the midnight sun, and at Riksgränsen there is downhill skiing until midsummer.
In winter, the spectacular Northern lights attract tourists from all over the world to Lapland.
Northern lights
The best place in Sweden to experience Northern lights is the Aurora Sky Station, which is situated on Mount Nuolja, 900 meters above sea level, in an area with very few distracting sources of light or sound: Northern lights filmed in stunning quality.
Laponia, Abisko and the Kungsleden trail
The World Heritage Site of Laponia is in northwestern Lapland. Its impressive natural landscape includes four national parks:
Sarek: This park has high mountains and is dramatic and steep. The Rapa delta is said to be especially beautiful. There are no trails, so the park is not for the inexperienced hiker.
Padjelanta: This park has a flatter and softer environment but it is difficult to reach because it is secluded behind the Sarek park.
Muddus: This park is probably Sweden's largest primeval forest.
Stora Sjöfallet: This park is located on the southern and northern shores of Lake Akkajaure. The lake itself is not part of the park because its waters are used for generating electricity, and roads and power lines have been built for that reason.
Laponia also includes the two nature reserves of Sjaunj and Stubba. The long-distance hiking trail, Kungsleden, which is 425 km long runs through part of the Laponia territory.
Sweden's highest mountain, the Kebnekaise is in the Abisko National Park. It is 2,111 metres high, although some sources cite that it is a few metres less.
Vindelfjällen: Here Ingemar Stenmark learned to ski
Vindelfjällen is another large vildmark (wilderness) area, lying next to Hemavan and Tärnaby. The southern part of the Kungsleden trail passes through this area.
Tärnaby is considered to be the Swedish slalom centre. World famous alpine skiers Ingemar Stenmark, Stig Strand, Anja Pärson and Jens Byggmark all started their careers on the slopes of the village.
In the summer you can go mountain biking, fishing and hiking here – just like anywhere else in Lapland.
Sparsely populated, long distances
Lapland is sparsely populated; very few people live outside the towns and villages such as Kiruna, Gällivare, Jokkmokk, Arvidsjaur, Sorsele, Storuman, Vilhelmina, Dorotea, Lycksele and Arjeplog.
In Lapland you can drive long distances without meeting a single person. In some areas you are more likely to meet reindeer, who like to stay on or near the roads.
Gas or petrol stations are rare and distances are long. In the 1980s, I once drove from Arvidsjaur to Jokkmokk and back, just because I needed to withdraw cash from a bank account – the trip was 300 km long!
Jokkmokk Market, a winter festival with a 400-year old tradition
On the first Thursday in February people come to Jokkmokk from all over the world to enjoy northern Europe's greatest winter festival, the Jokkmokk Market.
Mining in Kiruna
The entire city of Kiruna has to be moved 3 km to the east because the gigantic iron ore mine of the mining company LKAB is creeping towards the town. The mines are popular with tourists in the summer, with a visitor mine at a depth of 540 m in Kiruna.
Hydropower
In places such as Porjus, Akkats, Vuollerim and Messaure one can see how valuable water power is for electricity generation. The former state-owned electricity company that operates these power plants is not named "Vattenfall" (waterfall) by accident! Some of these sites can be visited in the summer, and sometimes you can go into the machine halls and rooms of the turbine power plants. The best place to visit is Porjus because they have a visitor centre with guides there.
Four major roads through Lapland
The E45 runs through Lapland from south to north. It comes all the way from Gothenburg and leads from Östersund in Jämtland almost to the northern tip of Sweden. In addition, there are three other important transport links, all running from southeast to northwest:
the E12 leads from Umeå to Mo i Rana in Norway
the national road Riksväg 95 leads from Skellefteå to Bodø in Norway
the E10 leads from Kalix to Narvik in Norway
What is Lapland?
There are many different definitions of "Lapland". Most importantly, there is the Swedish province of Lapland (in Swedish a landskap).
However, there is also a much larger region that is jointly marketed as "Swedish Lapland". It comprises the Lapland province and the neighbouring provinces of Norrbotten (with the city of Luleå) and Västerbotten (with the city of Umeå). This larger region is roughly equivalent to Norrbotten County and Västerbotten County (in Swedish a län).
Three unique hotels: Icehotel, Treehotel and Iglootel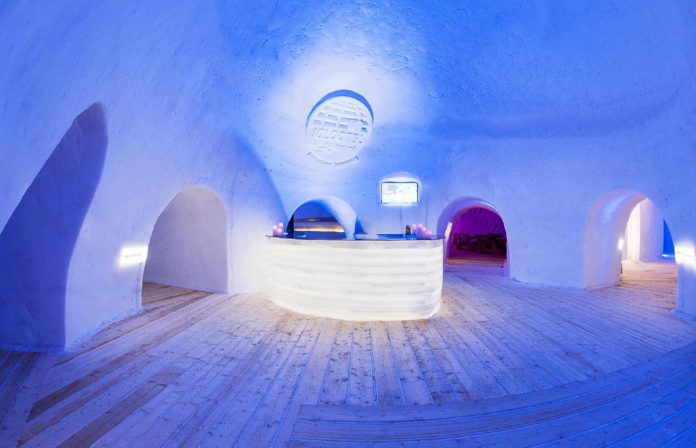 The Iglootel bar
Lapland has three of the most unusual hotels in Sweden. The Icehotel in Jukkasjärvi is known all over the world. Meanwhile, the  Treehotel in Harads has gained a similar status, all the more so since it is open all year round. There is also a snow hotel built of igloos. This "Iglootel" used to be in Arjeplog, which is visited by numerous car testers from around the world during winter. However, the Iglootel has now moved to Piteå.
---
  Hotels in Lapland
Book now: Hotels, hostels, B&Bs in Lapland
---
  Holiday homes in Lapland
Wide selection of holiday homes, including cottages, villas, cabins and apartments.
Book now: Holiday homes in Lapland
---
Small shop and nice café in Adolfström on the Kungsleden trail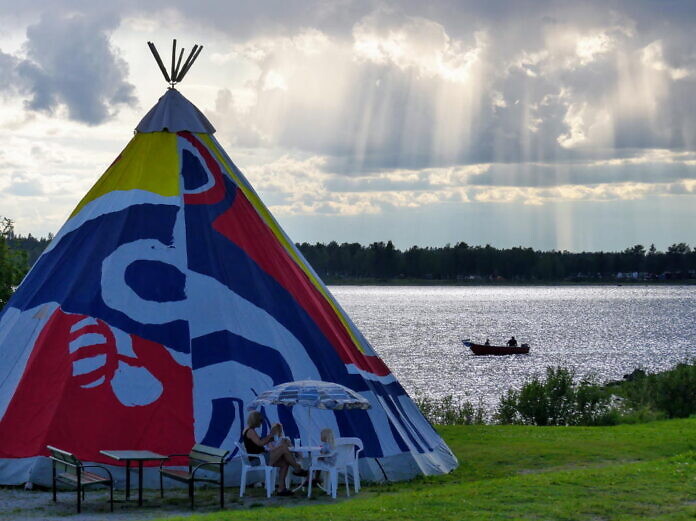 In Arjeplog; when I took this picture, we had record-breaking 31 to 32 degrees Celsius – perfect weather for swimming in the fine lakes near the Arctic Circle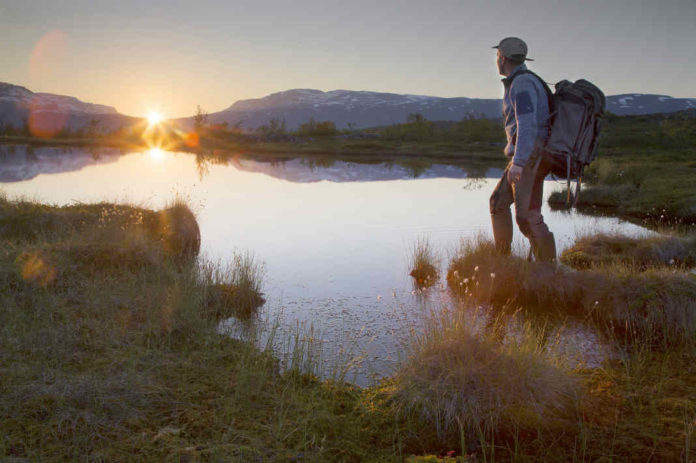 Midnight sun – Laponia is one of 15 Swedish World Heritage sites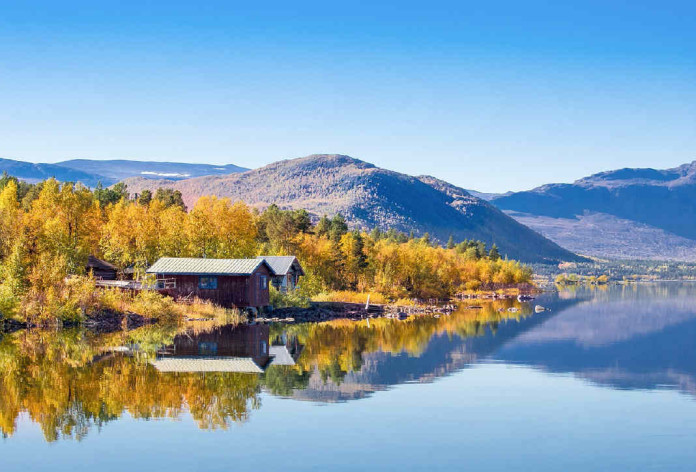 Björkudden, Stora Sjöfallet national park in autumn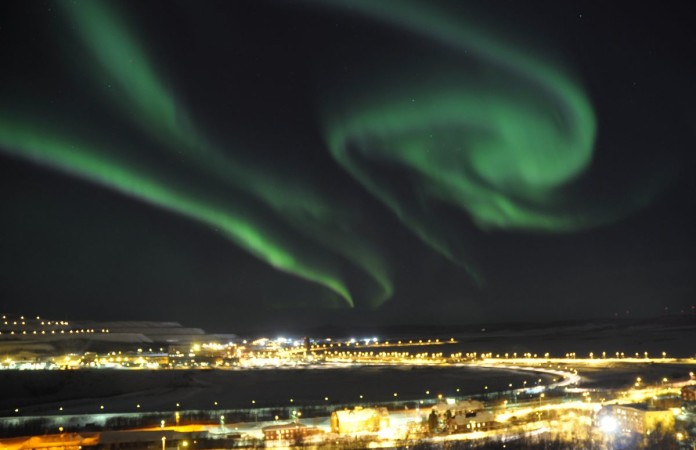 Aurora over Kiruna, March 2011
The photo on the top of this page is from the Laponia National Park and shows a view from the Kungsleden trail near the Tjäktja mountain pass towards Sälka (photo: Silke Nordfjäll); photo Iglootel bar: Iglootel; photo midnight sun: Peter Rosen; photo Björkudden: Gustav Melin; photo aurora: Rick McGregor, Swedish Institute of Space Physics