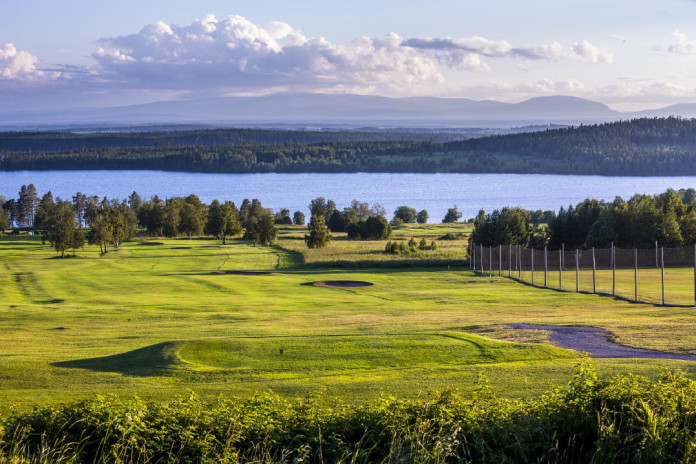 The province of Jämtland is situated in northern Sweden. Östersund, founded in 1786, is the region's only city. The Sámi culture, with its own history and traditions, has had an influence on major pars of the region. Tourism has a long history and tradition in Jämtland and it is nowadays a primary industry.
Winter tourism
Most activities in Jämtland are related to outdoor life and nature. The six-month winter season is particularly important to the region. Among the most well-known winter destinations we find Åre, Vålådalen, Bydalsfjällen, Klövsjö-Storhogna (marketed as Vemdalen) and Östersund, where first and foremost skiing is the number one activity (alpine, cross-country, biathlon, and backcountry skiing). Other common winter activities include ice-skating, snowmobile safaris, dog sledding, ice fishing, riding, ice climbing, reindeer sleigh rides, paragliding and snow kiting.
Summer tourism
In the summer, hiking in the mountains is the most popular activity followed by visiting sights and events, and fishing. Other common activities are biking (downhill and cross-country), canoeing, mountain climbing, bear, beaver and elk safaris, riding, golf, paragliding, and other adventure sports.
Summer tourism is growing rapidly. In July 2019, the Åre holiday resort had more guests than in any month of the preceding winter – this had never happened before.
Events
Jämtland prides itself on being good at arranging large events. There are in fact plenty of them – the IBU World Cup Biathlon in Östersund, the FIS Ski World Cup in Åre, the Storsjöyran music festival in Östersund, the Storsjöcupen soccer tournament in Östersund, the Jamtli Christmas Market in Östersund and the Västgård Game Fair (previously Fäviken Game Fair) in Östersund to mention a few of the more well-known ones.
Climate: Jämtland has five seasons
The coldest month is January with temperatures dropping as low as -30 degrees Celsius. The warmest month is July when temperatures can reach 25 degrees Celsius or more, with lower temperatures on the mountains.
The longest day is at the end of June when the sun sets at 23.16 and rises at 01.50 in Östersund. Between sunset and sunrise twilight reigns and it doesn't really get dark at all.
During the darkest period, at the end of December, the sun rises at 09.41 and sets at 14.18 in Östersund.
Jämtland is known for its contrasts between the midnight sun and the winter darkness as well as its five seasons – early spring, spring, summer, autumn and winter.
Wilderness
Jämtland has a unique flora and fauna, and in addition to the clean air, it is well known for its wilderness. In Jämtland it is still possible to catch sight of some of the Sweden's large predators, such as lynx, wolf, wolverine, brown bear, Arctic fox and elk. The region also has abundant fishing waters were you can catch trout, grayling, pike and char, among others.
Åreskutan Mountain
A well-known mountain is the Åreskutan Mountain in Åre whose summit is at 1,420 m above sea level. I have myself climbed up the mountain in summer but you can also take the aerial tramway (cablecar) almost all the way up to the summit.
The view from the top is truly magnificent. On fine days, there is even a simple but very nice café on the summit. However, there is no road leading up to the cafè, so all supplies (including water) have to be transported on ATVs with six wheels.
The Tännforsen waterfall
In Jämtland you can also visit Sweden's largest waterfall: Tännforsen. The lodge at Tännforsen (now closed) and the comfortable road up were built in 1906 – this was more than 30 years before Åre saw its first skiing guest. The water volume in the 38 m high waterfall varies over the year. In a normal year the peak is reached in May or June.
In the winter, the fall is wrapped in a beautiful and dramatic ice shroud, and you are able to take a thrilling walk under the waterfall (and even get married there, I've been told). Tännforsen is worth a visit all-year round.
Ragundadalen: The Thai Pavilion and the "Dead Fall"
The peculiar, white and gold Royal Thai Pavilion in Ragunda is the only one of its kind outside Thailand. It was a gift of friendship presented by Thailand and built in 1997 in memory of King Chulalongkorn's visit to Ragunda one hundred years earlier. There is a festival in honour of the royal visit on July 19 every year.
Also in Ragunda, you can see the Döda Fallet, meaning "the Dead Fall". The strange landscape of this nature reserve is the result of one of the worst natural disasters in Sweden. The disaster was manmade, though. In 1796 Magnus Huss, also known as "Vildhussen", mistakenly moved the massive waterway of the River Indalsälven when he tried to create a log-driving route that was meant to bypass the waterfall. As a result of his endeavour most of Lake Ragundasjön was emptied overnight.
Storsjö Monster
Lake Storsjön is Sweden's fifth largest lake with an area of 456 km². Lake Storsjön is the home of the Storsjö Monster, first mentioned in a legend written down in 1635, and today there are more than 200 witness reports from 500 people who claim to have seen the Storsjö Monster.
Frösön, Östersund
Frösön is Lake Storsjön's largest island. It is situated just west of Östersund. On Frösön there are several viewpoints where you can enjoy magnificent views on clear days: for example, from the Frösö Tower on the Östberget mountain and from the Frösö Church.
If you like golf, there is an impressive course next to the new  Quality Hotel & Resort Frösö Park (see photo on the top of the page). The hotel is expanding and adding new acitivities and adventures all the time. Now you can even take race driving lessons on the race track nearby, even on ice. The Åre Östersund airport is located right next to the hotel.
How to get to Jämtland
Flight
There are several daily flight connections from Stockholm and Gothenburg to the Åre Östersund airport. During winter, you can also fly direct from London and Copenhagen with easyJet.
Car
The most important road connections are the E14 between Sundsvall and Trondheim in Norway, and the E45 between Gothenburg and Karesuando, both of which pass through Östersund.
Train
In the summer you can also take the beautiful 100-year-old Inlandsbanan railway. It passes Östersund on its way from Mora in Dalarna to Gällivare in Lapland (see map). On the Inlandsbanan, there is also a daily winter train Mora – Östersund – Mora.
More info
---
  Hotels in Jämtland
Book now: Hotels, hostels, B&Bs in Jämtland
Quick links for Åre and Östersund:
---
  Holiday homes in Jämtland
Wide selection of holiday homes, including cottages, villas, cabins and apartments.
Book now: Holiday homes in Jämtland
---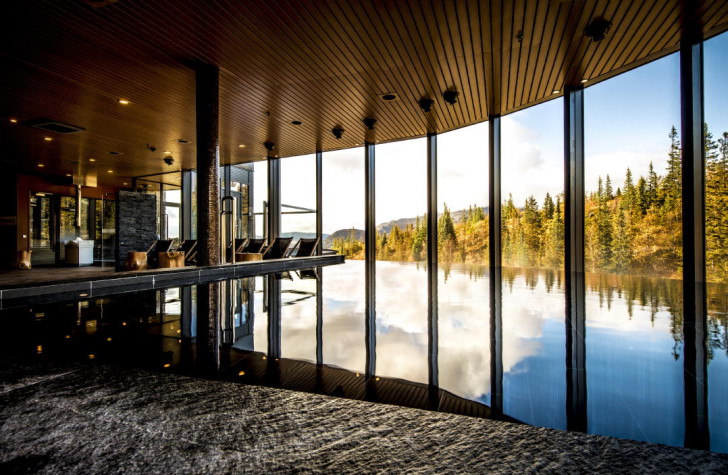 View from  Copperhill Mountain Lodge in Åre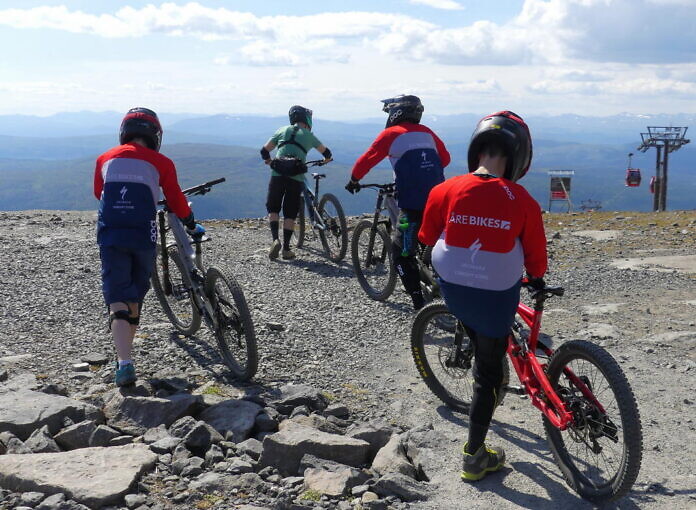 Åre: The cablecar mountain station is a popular starting point for bikers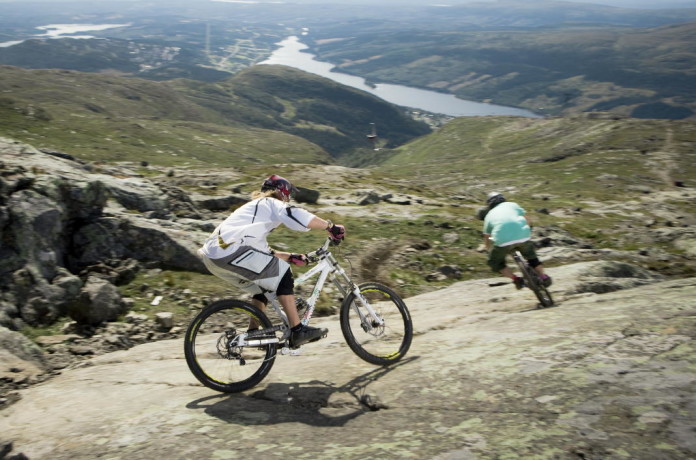 Åre Bike Park
Åre has repeatedly been voted as Sweden's best ski resort
Source: The article is partly based on facts provided by Jämtland Härjedalen Turism; photo on the top of the page: Quality Hotel & Resort Frösö Park; photo Copperhill: Gösta Fries, CML; photo Bike Park: Jonas Kullman; last photo: SkiStar