I had visited the region several times without knowing it was called "Skaraborg". Then one day I went on a culinary press trip to Läckö Castle by Lake Vänern and was introduced to the term "Skaraborg". Very simply put, it is the region around the town of Skara. However, Skaraborg is much larger and stretches from Falköping in the south to Mariestad in the north, from Grästorp in the west to Hjo and Karlsborg in the east (see map below). There also was a county named "Skaraborg" until the end of 1997.
Skaraborg is one of the major regions of Västergötland (West Sweden). In the Middle Ages, Skaraborg was actually the centre of Västergötland.
Food
On the culinary press trip, I learnt that Skaraborg is known for its delicious food. We enjoyed all sorts of salads from the Läckö Castle's own gardens, smoked salmon from Lake Vänern, and excellent green asparagus from the "slätten", the vast flat fields that are characteristic of the region.
There are many small-scale food producers and farm shops in Skaraborg. On top of that, you have one of Sweden's best cheese shops. It is located in Falköping. This "cheese paradise" (Falbygdens Osteria) has 150 kinds of cheese on offer as well as many other delicacies from the area. The cheese counter is 25 m long! There is also a restaurant and a gift shop. The gift shop is great if you want to buy some typical Swedish Christmas decoration (available also during the summer).
Major attractions
The Göta Canal, running through Skaraborg from Sjötorp by Lake Vänern to Karlsborg by Lake Vättern, is one of the most popular tourist attractions of the region. Now you can even rent bicycles in Sjötorp and return them in Karlsborg. The cycle tracks along the canal are flat and easy. If you just want to watch the boats and enjoy the idyllic atmosphere, we recommend the locks at Hajstorp and Tåtorp by Lake Viken. Both places have wonderful summer cafés. At Forsvik you can find the oldest and highest lock of the canal. Forsvik is also a unique industrial area with roots back in the medieval times.
Karlsborg is known for its enormous fort. It was built 1819 – 1909 and meant to serve as a substitute Swedish capital in case Stockholm was conquered.
Läckö Castle
More history can be experienced at Läckö Castle (near Lidköping), Varnhem Abbey (once Sweden's largest monastery) and Skara Cathedral (originally from 1150 and the oldest diocese in the Church of Sweden).
Sweden has three remaining wooden towns. Hjo by Lake Vättern, 600 years old, is one of them. We recommend the harbour area and the Moster Elin's ice cream kiosk with a view over the lake. Mariestad has an Old Town with a similar atmosphere.
Spiken fishing harbour (by Lake Vänern) can also be recommended. It is one of Europe's largest freshwater harbours. The village has restaurants, cafés and fish stores that are very popular during the summer.
If you love the fifties, sixties and seventies then drive along the Retro Route ("Retrovägen"). Here you can find petrol stations, cafés , motels, grocery stores, flea markets and museums – all devoted to "retro". There are two different routes, both of which have Nossebro as their starting point.
Outdoor and hiking
Billingen is an area which offers cycling, hiking, running and – in wintertime – 60 km of cross-country skiing tracks.
The Kinnekulle area has a 45 km long walking trail with lots of alternate routes. On the Kinnekulle mountain, there is a tower on the summit with magnificent views of about 50 km on clear days. The Kållandsö island (where you find Läckö Castle) is also part of Kinnekulle – Kållandsö is also great for canoeing and kayaking.
Vallebygden is an area between Skara and Skövde. There are 365 (!) lakes and six nature reserves. The area is especially beautiful in mid-May when the cherry trees bloom. Vallebygden is great for relaxed cycling.
Spring is a lovely time at Lake Hornborgasjön. During March and April up to 25,000 cranes gather here on their way to Sweden's northern parts. The crane dance is watched by as many as 150,000 visitors every year. Even eagles can be seen at the lake, all year round.
Fun for children
If you are travelling with children, be sure to visit Skara Sommarland, one of Sweden's foremost adventure parks and Scandinavia's biggest water park. Older children would probably prefer the concrete Action Park in Tibro where they can bring their skateboards, BMX, scooters or in-lines.
Swimming can be enjoyed on the long coastlines of the Vänern and Vättern. Moreover, there are many smaller lakes between Sweden's two largest lakes.
Our kids also love the instructive Ekehagen Ancient Village, which is an outdoor museum with buildings from the Stone, Bronze and Iron Ages. It is located south of Falköping.
More info
---
  Hotels in Skaraborg
Book now:
---
  Holiday homes in Västergötland
Wide selection of holiday homes, including cottages, villas, cabins and apartments.
Book now: Holiday homes in Västergötland
---
The Göta Canal in Karlsborg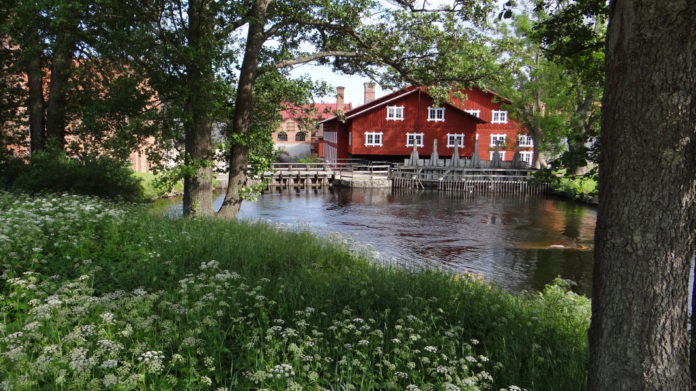 In Forsvik
The photo on the top of the page shows Läckö Castle