(Update summer 2017: The taxis have not only changed colour, they have also changed city, from Gothenburg to Stockholm – see more info at the end of the article.)
Faster than a bike, cheaper than a taxi – and completely emission-free. Bzzt is a new service for easy transport within cities and towns, where you book your trip by phone (on a webiste) and pay with your creditcard in the vehicle. The service is free from exhaust fumes and almost half the price of regular taxis.
Gothenburg first
Today Bzzt launches its new transport service in Gothenburg. Thus, Gothenburg is first in Sweden with a climate- and cost-smart alternative for short journeys from door to door within its central aera.
Right from the start, with only three vehicles in traffic, Bzzt is able to replace about 100 short car trips per day. Moreover, a journey from the central station to Linnéplatsen is 50 SEK cheaper than a regular taxi (SEK 75 instead of 125).
"Our focus is on short trips. Here we have many advantages: Our service is faster than a bicycle, cheaper than a taxi and more convenient than public transport because you're going from door to door without transfers and waiting times," says the company's CEO Sven Wolf who is also one of the founders of the initiative.
Zbee
The vehicle is called Zbee and is powered by "green" electricity. Zbee is made in Sweden and has room for two passengers behind the driver. It is extremely efficient and uses less energy per person than a crowded train.
More info and booking
There is no service during winter; limited service during spring and autum (usually only on weekends); full service during summer, starting approx. June 20.
Update summer 2017
The service is no longer available in Gothenburg. The taxis have moved to Stockholm, instead. They have also changed colour – to a very light egshell-like yellow.
---
  Hotels in Stockholm
Book now: Hotels, hostels, B&Bs in Stockholm
---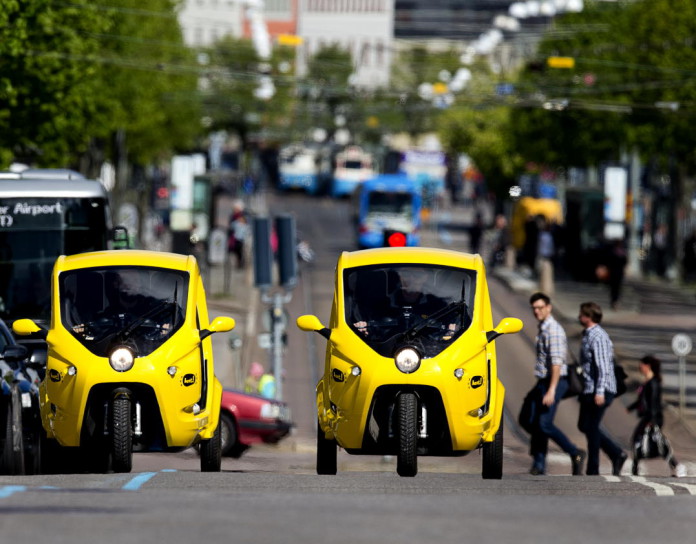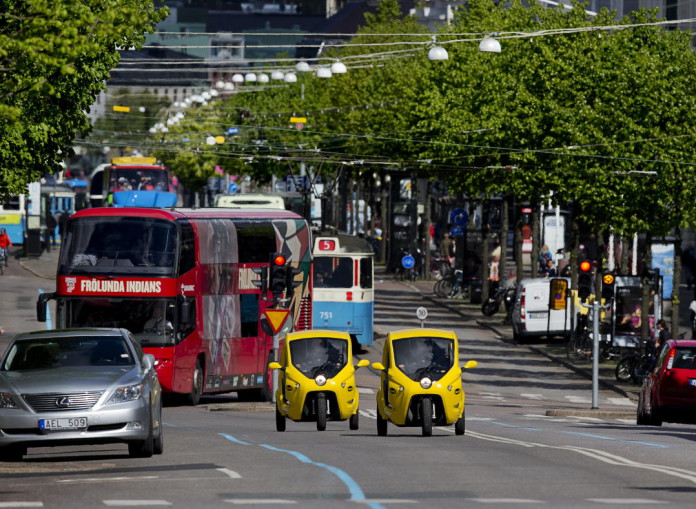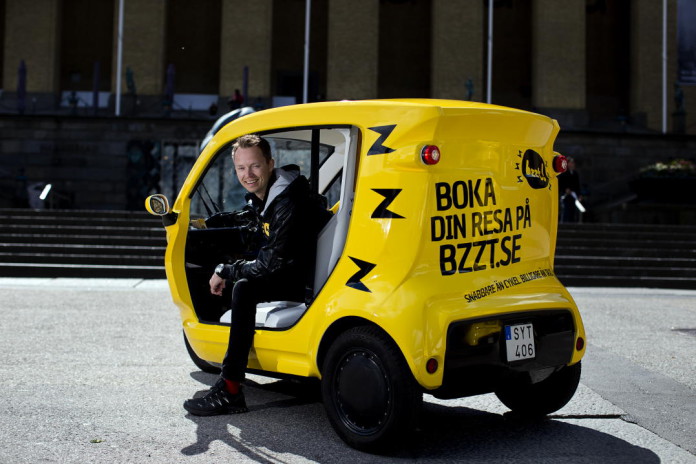 Source and photos: Bzzt (our translation)