The Wilderness Road is a popular road in Northern Sweden. Parts of the road are closed during winter and spring because they are blocked by several metres of snow. This year the road will be opened for the summer season on Saturday, June 4.
The Wilderness Road (in Swedish: Vildmarksvägen or Stekenjokksleden) leads from Strömsund in Jämtland to Vilhelmina in Lapland. The road is roughly 360 km long. It takes about six hours to drive the whole distance, provided you don't stop too often to take pictures.
You pass the border between Jämtland and Lapland just south of Stekenjokk. Shortly after (if you are coming from Strömsund) you will get to a great hotel and restaurant: Hotell Klimpfjäll. You can see a picture of the hotel's surroundings below.
A picture from the Klimpfjäll web camera – unfortunately the web camera has been out of service for a while
Gaustafallet, a water fall between Stekenjokk and Stora Blåsjö, just 100 m off the Wilderness Road
More info
The region of northern Jämtland and southern Lapland with the municipalities Strömsund, Dorotea, Åsele and Vilhelmina is jointly marketed as "South Lapland".
---
  Hotels in Strömsund
Book now:  Hotels, hostels, B&Bs in Strömsund
  Hotels in Saxnäs
Book now:  Hotels, hostels, B&Bs in Saxnäs
  Hotels in Vilhelmina
Book now:  Hotels, hostels, B&Bs in Vilhelmina
---
Update June 4, 2016: A picture from the opening ceremony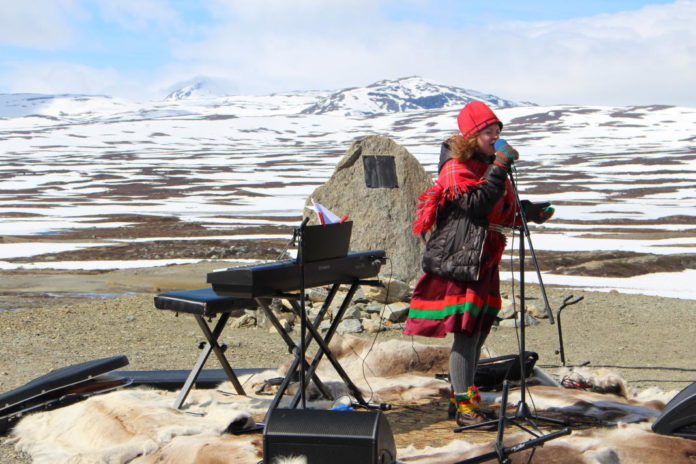 Opening of the Wilderness Road, Stekenjokk. Jojk by Sara Hermansson.
Related article
Photo Klimpfjäll: screenshot; Photo opening ceremony: South Lapland