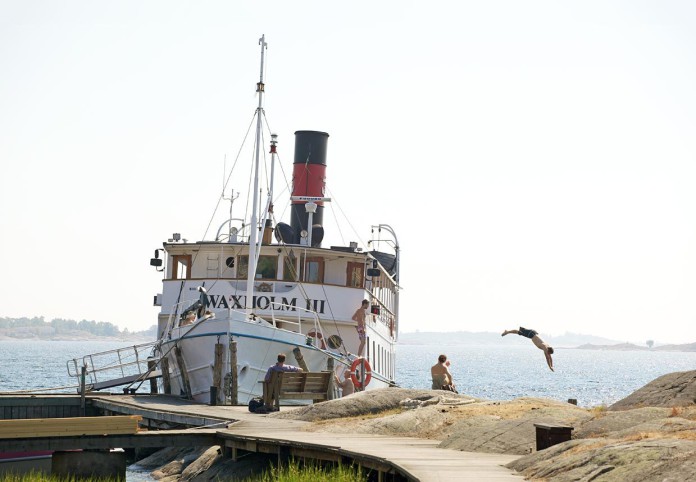 In Stockholm the water is never far away. Boats are also present in the immediate centre of the city. In front of the Old Town and the Royal Castle, even large cruise ships can be found. In summer you can spend many weeks as a tourist in exploring the city, the harbour and the offshore archipelago by boat.
30,000 islands between Norrtälje and Nynäshamn
There are no less than 30,000 islands and islets between Nynäshamn in the south and Norrtälje in the north – the Stockholm archipelago. Only a small area is inhabited and accessible with the ships of the shipping companies Waxholmsbolaget, Cinderella Båtarna (Strömma) and Utö Rederi.
The world of the Stockholm archipelago is a paradise for sailors, fishermen and all those who love the life near to and around the water. There are also many beautiful trails for hikers and cyclists. During the summer months it pulls the people of Stockholm magically out into this fantastic island world. Here you can swim, ride a bicycle, paddle, take photos, discover the beautiful nature, or just relax and enjoy the moment.
Here are som destinations that we recommend:
Sandhamn on the island Sandön is famous as the centre of sailors and boating tourists. There are also beautiful sandy beaches – the whole island consists of sand.
Fjäderholmarna is only 25 minutes away from the city centre. Until about 1985, the islands were an inaccessible military zone. Today, tourism is flourishing here with restaurants, a café, fish smokehouses and craft stalls. And now Swedish whisky can be found here. Fjäderholmerna is part of Stockholm's National City Park "Ekoparken".
August Strindberg lived in Kymmendö and Dalarö. Here he wrote his novel "The people of Hemsö" ("Hemsö" is Kymmendö). Dalarö is connected to the mainland by a bridge and is known as the gateway to the southern archipelago.
In Vaxholm you can visit the fortress dating from the 16th century. Moreover, there are many magnificent old wooden villas. Vaxholm also offers a wide range of accommodations, with  hotels, B&Bs and holiday apartments.
In Utö there are many bathing places (even sandy beaches), hiking trails and cycle paths. Smoked fish and sandwiches can be found in a fish kiosk. Since Utö is one of the most popular tourist destinations in the Stockholm archipelago, there are cycle and kayak rentals here as well as accommodation facilities ( STF Hostel Utö and  Gula Villan Utö) and a popular restaurant (Utö Värdshus).
Grinda is a nature reserve and a popular tourist area.
Huvudskär is known as a beautiful centre for summer tourism and is also a nature reserve. This area lies far out in the archipelago and consits of 200 small islands.
Värmdö has "Stockholm's proudest archipelago", a unique natural environment with more than 10,000 islands. Around 38,000 people live here. In summer, the community grows and consists of over 100,000 inhabitants. Värmdö is home to popular tourist destinations such as Gustavsberg, Sandhamn (see above), Möja, Grinda (see above), Bullerö and Svartsö. In Värmdö you will also find the Artipelag art gallery.
Excursion boats and vital link
Our picture on the top of the page shows the popular Norrskär, one of the two steamboats of Waxholmsbolaget. The ship was built in 1910. Other classic ships of Waxholmsbolaget are Storskär and Västan. Waxholmsbolaget has 20 other ships in service, some of which can even navigate in icy winters.
The ships in the archipelago can be used as excursion and pleasure boats. They also provide an important link for those who live on the islands, permanently or only during the summer. Therefore, all kinds of loads, big bags, boxes and bins are brought onto the boats. When that happens, you have to sit closer together. Sometimes it is not difficult then to establish contact with the other passengers.
On some popular routes (e.g. Huvudskär) we recommend that you reserve a seat during summer, especially in beautiful weather.
Here you can book the most popular cruise: Archipelago cruise with guide, 2½ hours
New tourist line in the archipelago
On an experimental basis, there is a cross-connection in the Stockholm archipelago. Every day in Summer (June, July, August), boats travel from Nynäshamn in the south to Simpnäs in the north, primarily for tourists.
Båtluffarkort
There are multi-day passes (e.g. for 5 and 30 days), which make the exploring of the archipelago convenient and inexpensive. The passes are called "Båtluffarkort". Discounts are available for children.
More info
---
  Archipelago cruise with guide, 2½ hours
Book now: Archipelago cruise with guide, 2½ hours
---
  Hotels in the Stockholm archipelago
Book now:  Hotels, hostels, B&Bs in the Stockholm archipelago
  Hotels in Stockholm
Book now: Hotels, hostels, B&Bs in Stockholm
---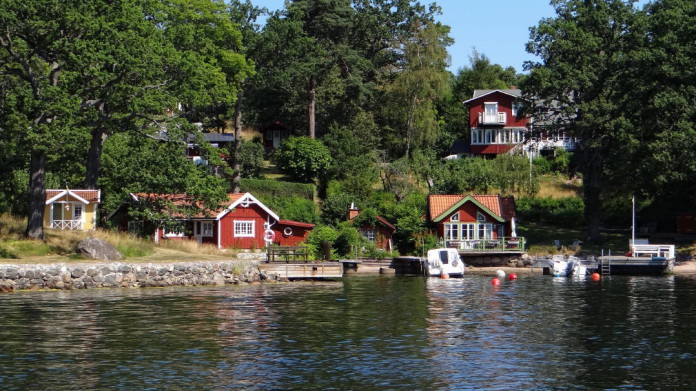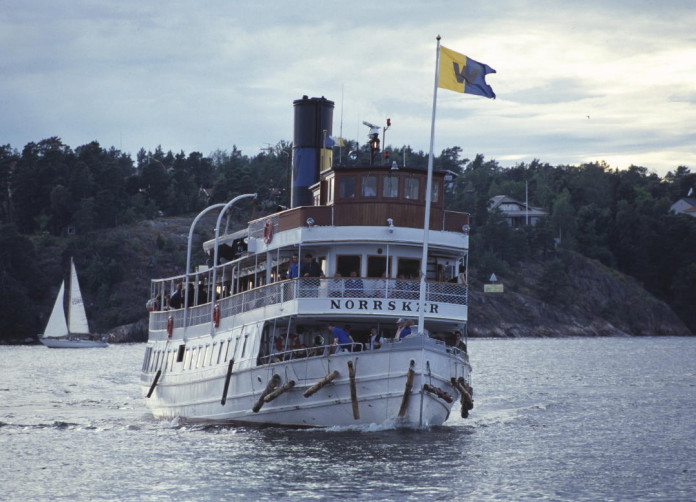 A boat of Waxholmsbolaget
A Cinderella boat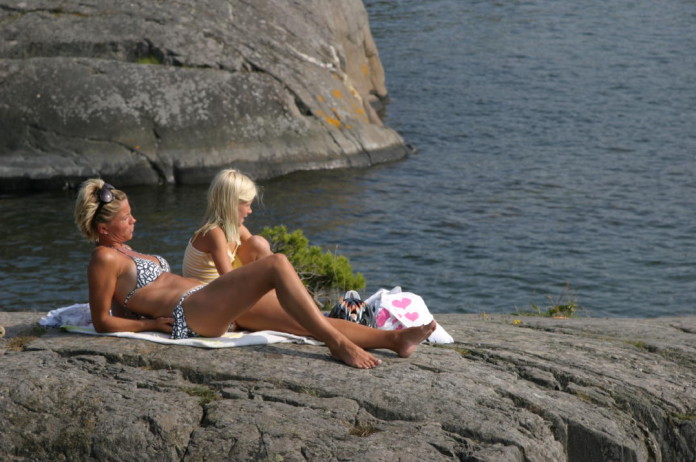 Rävstavik on the island of Utö has magnificent cliffs for swimming and sunbathing
Featured image on the top of this page by Strömma Turism & Sjöfart AB; photo #3: Gunnel Ilonen/SMM; photo #4: Magnus Deutgen; photo #5: Strömma Turism & Sjöfart AB; last photo: Cicki Borg