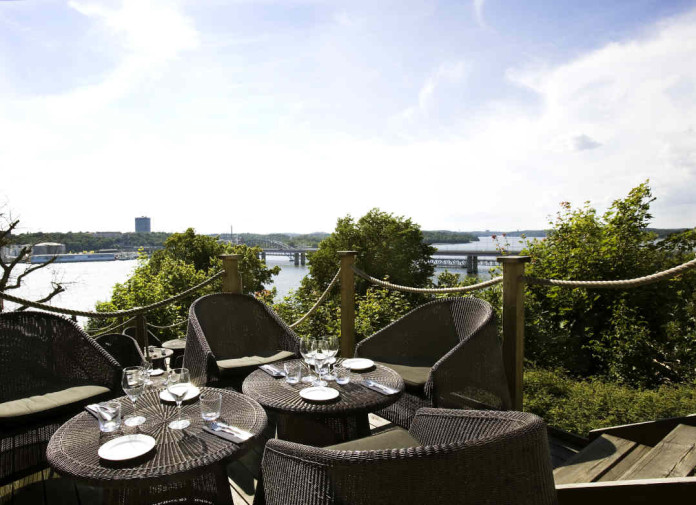 The Scandic hotel chain hast listed seven of its Stockholm hotels that have a rooftop bar or an outside terrace. They promise "great food, great cocktails, great feeling and great locations".
All hotel links go to our partner Booking.com where you can check availability and rates for these hotels.
 Scandic Continental rooftop bar
Vasagatan 22, 111 20 Stockholm
Scandic Continental (near the Central Station) is custom made for the modern business traveller. Enjoy a nice cocktail and admire the Stockholm skyline in the rooftop bar Capital.
 Scandic Hasselbacken outside terrace
Hazeliusbacken 20, 100 55 Stockholm
With activities in the garden (boule, crocket, chess).
 Scandic Anglais rooftop bar
Humlegårdsgatan 23, 102 44 Stockholm
Next to the very fashionable Stureplan square with its shopping malls and glittering nightlife. Our favourite rooftop bar in Stockholm. If you cannot sit outside, we recommend the new and very popular Scandic Anglais bar inside the hotel.
 Scandic Park outside terrace
Karlavägen 43, 114 31 Stockholm
Near the park Humlegården.
 Scandic Grand Central outside terrace
Kungsgatan 70, 111 20 Stockholm
"Little Italy" is an outside terrace in a courtyard.
 Scandic Sjöfart rooftop bar
Katarinavägen 26, 104 65 Stockholm
Splendid view over Djurgården island and the harbour area called Saltsjön.
 Scandic Foresta outside terrace
Herserudsvägen 22, 181 34 Lidingö
Even here in Lidingö you get a magnificent view over Saltjön, the bay of the Baltic Sea that stretches into central Stockholm.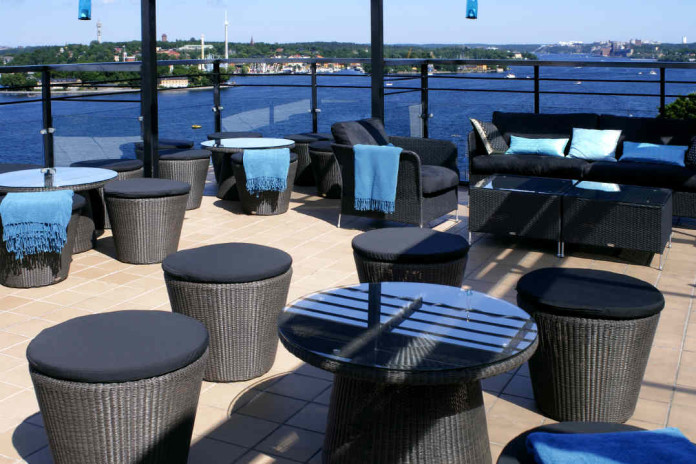 Scandic Sjöfartshotellet
Our recommendation: Mosebacke
Our favourite spot in Stockholm is the terrific Mosebacke terrace – at least in fine weather during the summer months. You will find it at Mosebacke Torg 1-3, 116 46 Stockholm in the fashionable district of Södermalm. See our picture below – we have spent many memorable evenings and nights there.
Mosebacke terrace
Map
Click on the icon in the upper left corner and you will get a list of all the rooftop bars (green markers) and outside terraces (red markers) we have mentioned, with addresses.
More info
www.therooftopguide.com/rooftop-bars-in-stockholm.html
---
  Hotels in Stockholm
Book now: Hotels, hostels, B&Bs in Stockholm
---
Source for hotel info, featured image and photo #2: Scandic Hotels (our translation); the featured image shows the Scandic Foresta