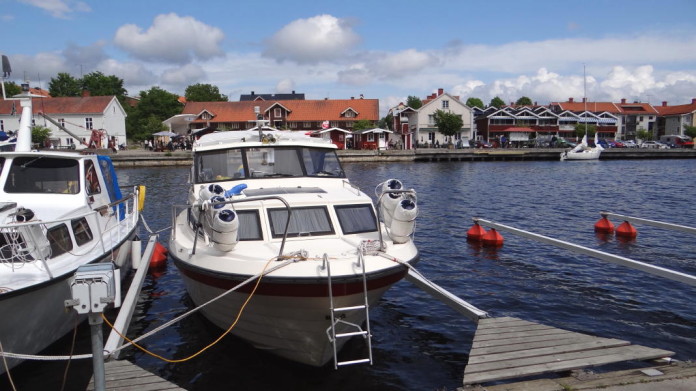 Like Hjo on the western shore of Lake Vättern, Askersund too has a town centre with picturesque wooden houses, cobbled streets and cafés. Askersund is pleasant and has a long history. It already received town rights in 1643.
The town lies at the northern tip of Lake Vättern, more precisely at a stretch of it called Lake Alsen. It belongs to the region of Örebro and has about 4,000 inhabitants.
Charming port area with motorhome spaces
The town is beautifully situated and popular with tourists. Our photo above was taken in the charming port area, for example. Here you will also find a large number of motorhome spaces.
Summer events
For many years the town was known for, among other things, a jazz festival and a chocolate show. Unfortunately, these two events no longer exist. Instead you will find events like Car&Bike Meet, antique market, children's week, and summer music in the harbour.
Nature reserves
There are three nature reserves near the town: Fagertärn, Harge uddar and Utnäset – both of the latter are situated directly by Lake Vättern. The impressive Tiveden National Park is not far either.
Attractions
The Stjernsund Castle, beautifully situated on the lake's shore, is among the attractions in the vicinity of Askersund.
More info
---
  Hotels in Askersund
Book now: Hotels, hostels, B&Bs in Askersund
---
  Holiday homes by Lake Vättern
Wide selection of holiday homes, including cottages, villas, cabins and apartments.
Book now: Holiday homes by Lake Vättern
---
Askersund harbour welcomes motorhome tourists
[contentblock id=6 img=gcb.png]