Sweden's sunny island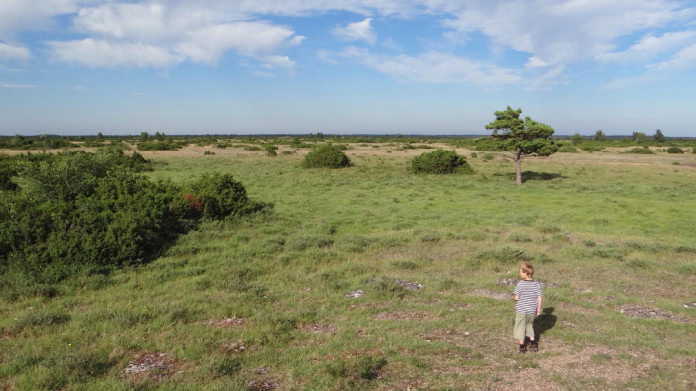 The island of Öland is Sweden's smallest province and has few permanent inhabitants. In the summer months, however, Öland attracts a large number of tourists. Most visitors use the Öland bridge, Sweden's longest bridge, to cross the six kilometres from Kalmar (in Småland) to the island.
Öland is usually at the top of the league table in terms of the number of hours of sunshine in the summer. Öland is often sunny, but it blows a lot here because there are neither mountains nor forests, which is also why there are 350 windmills on Öland.
Attractions on Öland
Among the biggest attractions of Öland you will find:
In the south
Eketorp Castle (Eketorps fornborg) – a reconstructed prehistoric fortress from the Iron Age, with a 5 m high and 6 m wide ring wall
Stora Alvaret – this vast limestone surface and heathland in southern Öland is a UNESCO World Heritage site (10 km wide, 40 – 50 km long)
The Öland museum in Himmelsberga
Lighthouse Långe Jan – at the southern end of Öland is Sweden's highest lighthouse (41 m), with a bird station and Naturum visitor centre for observation of migratory birds in autumn (Ottenby)
In the north
Borgholm Castle – a beautiful and haunting ruin, in which Roxette filmed their video for "Listen to your heart" – a fire destroyed the castle in 1806
Köpingsvik, in the municipality of Borgholm – one of the most popular tourist sites on Öland (here you can find  accommodation in Köpingsvik and Borgholm)
Solliden Palace – where the Swedish royal family spend their summer holidays (the castle is located south of Borgholm)
Lighthouse Långe Erik – at the northern tip of Öland
Böda Ecopark – on the northern tip of the island, with numerous hiking trails and a 40 km cycle path
Byxelkrok – the small fishing village is now one of the most popular resorts of Öland, with a waterfront guest harbour, bars, restaurants and the fabulous hotel  Byxelkroks Marina Sea Resort
Bike island and bathing island
Because Öland is flat, it is considered to be a perfect island for cycling. Its narrow width means that you can cycle to the sea from anywhere on the island.
On Öland you will easily find your favourite bathing spot. In the north, for example, there is the long sandy beach at Böda. On the west side of the island you can swim in the Kalmar Sound, which is normally a little warmer than the open sea. There is a good bathing site in Mörbylånga at the windsurfer and kitesurfer centre, Haga Park.
Camper's paradise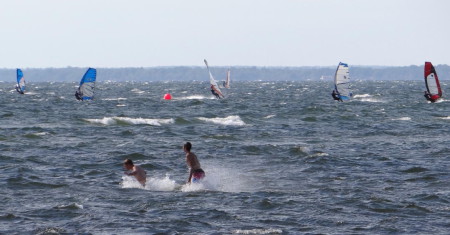 Windsurfing at Haga Park campsite
There are about 25 campsites on Öland. Most of them are excellent family campsites. Among these are the two 5-star campsites in the north of the island: Sonjas Camping and Böda Sand. The north of the island, the municipality of Borgholm, is the most popular camping region in Sweden, with some 800,000 guest nights at campsites every year.
Most campsites on Öland now have a wide range of cabins. They are ideal if you are travelling without a caravan or motorhome and still want to experience a camping community. You can book some of these cabins if you follow the booking link for hotels, see below.
---
  Hotels on Öland
Book now:  Hotels, hostels, B&Bs on Öland
---
  Holiday homes on Öland
Wide selection of holiday homes, including cottages, villas, cabins and apartments.
Book now: Holiday homes on Öland
---