Last night the new Mall of Scandinavia opened in Stockholm. With 101,000 sqm. and 224 stores and restaurants, the Mall of Scandinavia is the largest shopping mall in Northern Europe.
The opening at 20:00 local time (!) apparently became an endurance test for many of the more than 20,000 people who wanted to attend. They had to wait for two hours and more, and some did not even get in.
Despite some unpleasant moments and pushing, the operators of the Mall claim that their security personnel, the police and the fire brigade had the situation under control at all times. Luckily no one got hurt.
Vast range of stores and restaurants
Those who did get into the impressive new shopping mall could see Nike's first flagship store in Sweden, a LEGO Store, the Disney Store, and the first commercial IMAX cinema in Sweden. Other brands available at the Mall are COS, Adidas, Filippa K, Michael Kors, River Island, ROOM, Illums Bolighus, and electric car maker Tesla.
The Mall of Scandinavia also offers a dining plaza with 22 restaurants, Stockholm's largest collection of restaurants.
Poor press service and website
The operators of the shopping mall are active on Facebook and Instagram and quickly respond to comments and questions. This is great.
However, on the day of the opening (of all days) not a single press release was available. Likewise, all press photos had been deleted from the Mall's unfinished website. A press room was under construction.
How were journalists supposed to write about this major event without any adequate press material? This is pretty sad – the Mall missed an opportunity to get even more exposure, and more positive exposure.
How to get to the Mall of Scandinavia
The new shopping mall is located in the rapidly growing district of Arena City in Solna, only 7 minutes by train from Stockholm Central Station.
More info
---
  Hotels in Stockholm
Book now: Hotels, hostels, B&Bs in Stockholm
---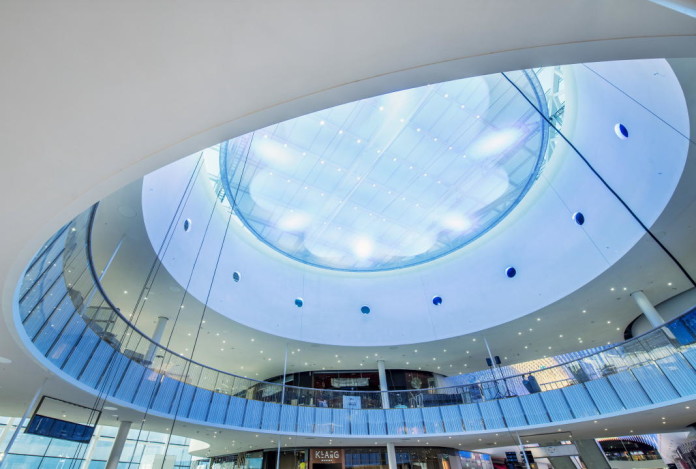 If you are interested in website development and SEO, you can read a review of the Mall's initial website by Daniel Carlbom: Mall of Scandinavia – Did you forget your site?.
Photos: Mall of Scandinavia/Lars Clason