This route leads you around Lake Vättern, Sweden's second largest lake. The route is approximately 300 km long. We drive around the lake in clockwise direction.
First you drive on the western side of the lake from Jönköping in the south to Aksersund in the north. From there you head south on the eastern side of the Vättern back to Jönköping. Be sure to stop in Gränna for the red-and-white candy canes.
The map is best viewed on a desktop computer. You can switch off layers in the map legend area (red checkboxes). Just try it out.
On this route you will find the following attractions (clockwise)
the Taberg mountain and viewpoint just south of Jönköping
the old wooden church of Habo
the cosy little town of Hjo where you should eat icecream at Moster Elin's in the harbour area
the fortress of Karlsborg where you also can find a DC-3 from 1952
Forsviks bruk which is one of Sweden's oldest documented industrial sites
the Göta Canal which runs right through Forsviks bruk
the Tiveden national park, Sweden's southernmost wilderness
Askersund with the northern archipelago of the Lake Vättern
Stjernsund Castle
Motala with the Göta Canal
Vadstena
Ödeshög
the ruins of Brahehus on the E4 motorway
the fabulous litte town of Gränna where you can buy red and white striped candy canes
the magnificent viewpoint Gyllene Uttern on the E4 motorway
---
  Hotels by Lake Vättern
Our route suggestion is primarily intended for tourists with motorhomes/RVs. Of course you can also drive this route in a car and spend the nights in hotels, hostels or B&Bs.
Book now: Hotels, hostels, B&B by Lake Vättern
---
  Holiday homes by Lake Vättern
Wide selection of holiday homes, including cottages, villas, cabins and apartments.
Book now: Holiday homes by Lake Vättern
---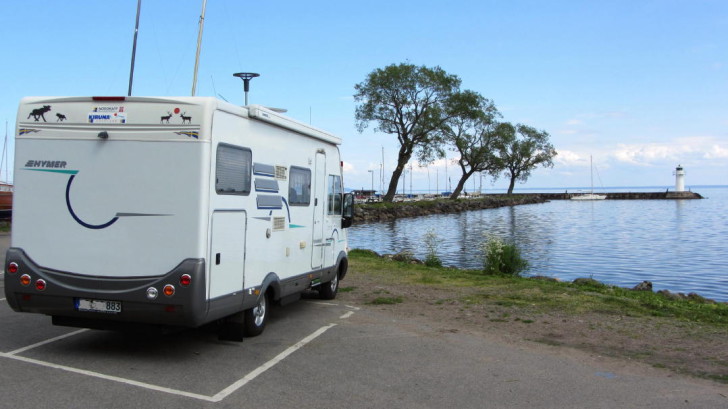 In the harbour area in Hjo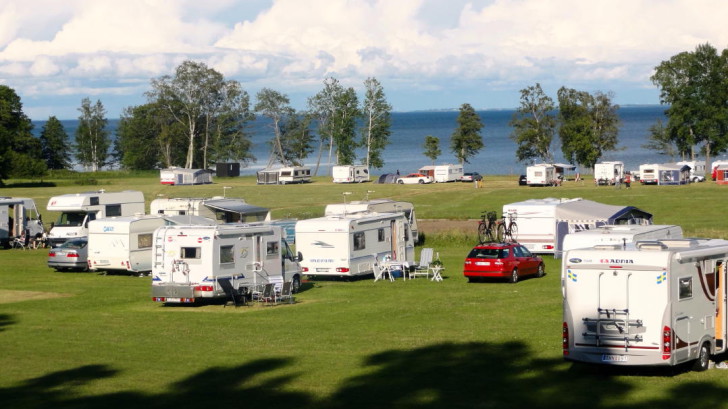 If you are looking for a campsite on the western coast of the lake, we recommend Breviks Camping. It is situated between Hjo and Karlsborg. Here you can camp close to the lake in a calm and beautiful environment.
Askersund harbour welcomes motorhome tourists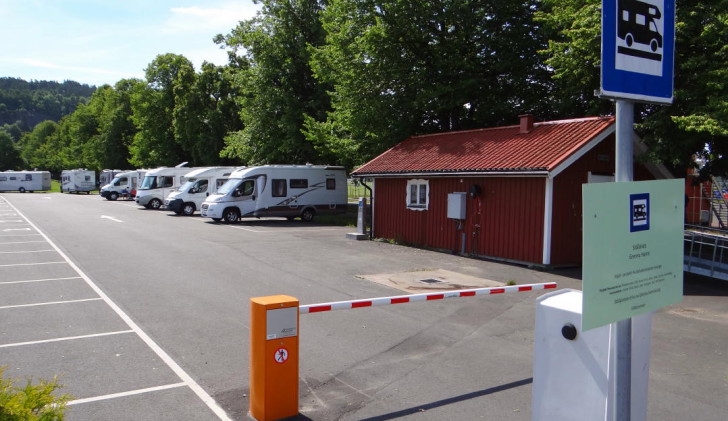 A site for motorhomes in the harbour area of Gränna
Lake Vättern, seen from the Gränna mountain
Polkagrisar candy canes in Gränna
The Lake Vättern near Habo
The Lake Vättern near Habo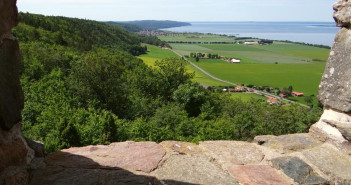 View from the ruins of Brahehus north of Gränna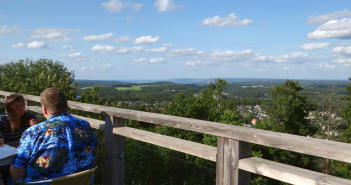 Taberg mountain and viewpoint south of Jönköping
Tiveden National Park
Related articles