If we want to leave Gothenburg behind for a while, we can reach Dalsland in a two-hour drive by car. Then we are right in the heart of one of the most Swedish regions of all. Dalsland is regarded as Sweden in miniature.
From Gothenburg you're there in just two hours
For those who arrive in Gothenburg by ferry from Fredrikshavn (Denmark) or Kiel (Germany), Dalsland can be reached easily. Therefore, the region is also ideal for short trips in the off-peak season, for anglers, hikers, canoeists or kayakers.
Like Västergötland and Bohuslän, Dalsland belongs to the area that is jointly marketed as West Sweden.
More than 1,000 lakes
Dalsland is Swedish wilderness. With over 1,000 lakes, Dalsland has the most lakes of any Swedish region (in relative terms). Water, forest and nature are always within reach.
In the north there are deep forests and clear lakes. In the southern parts of the region you can also find sandy beaches and smooth rocks. You can go on a beaver safari or pet moose and elks. The woods are full of berries and mushrooms in the summer – the wild strawberries (smultron) are particularly popular with children.
In many places there are farm shops and farm cafés, crafts and flea markets called "loppis", exciting museums and wonderful wooden churches – Skållerud's church was once voted the most beautiful in Sweden.
Dalsland Centre in Håverud
As a starting point, we recommend Håverud. Here, on the Dalsland Canal and next to the famous aqueduct is the Dalsland Centre. Here you can find cafés, restaurants, a shop and an exhibition. The centre's friendly staff will be happy to provide information about the area.
Those who like to sit outside can watch the activity on the canal and in the locks for hours. From Håverud all sorts of boat tours start on the canal, a 250 km long waterway through the region.
Sparsely populated
The region has approximately 50,000 inhabitants. In Dals-Ed, one of the five municipalities of this region, there are only seven people per sq. km, compare this with Holland which has 406 inhabitants per sq. km!
Many Dutch and German emigrants have moved to Dalsland, where they run some of the canoe rentals, bakeries, and campsites in the region.
Good to know
In Dalsland there is (as of 2020):
not one single escalator
not a single traffic light (except at railway crossings)
not a single car park ticket machine
and not a single McDonald's!
---
  Hotels in Dalsland
Book now: Hotels, hostels, B&Bs in Dalsland
---
  Holiday homes in Dalsland
Wide selection of holiday homes, including cottages, villas, cabins and apartments.
Book now: Holiday homes in Dalsland
---
Lake Stora Le in northern part of the region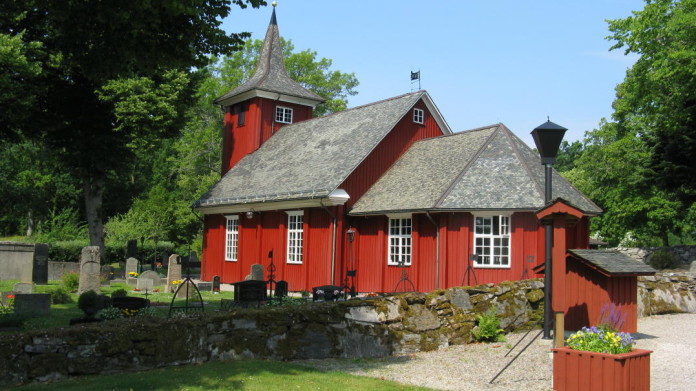 Skållerud Church