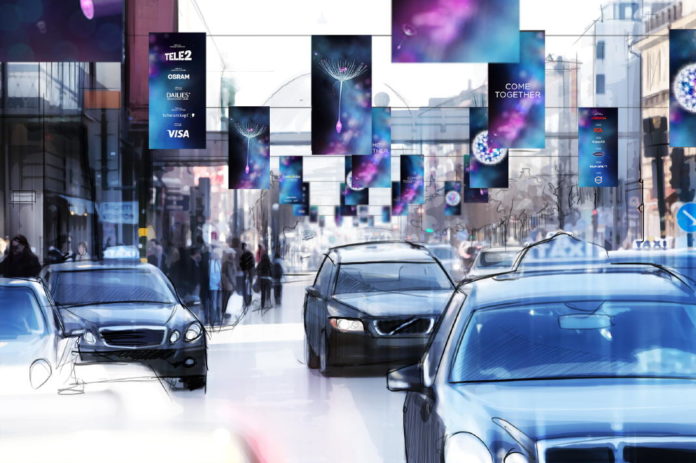 Creativity and playfulness have been important factors for the citydressing during Eurovision Song Contest in Stockholm. The city centre will be decorated, for more than one sense.
Citydressing from Arlanda Airport to the Globe Arena district
The citydressing can be experienced at Stockholm City Hall, as well as along the main shopping streets Drottninggatan, Kungsgatan and Biblioteksgatan, The Eurovision Village in Kungsträdgården, Skeppsbron, along Götgatan on Södermalm and also in the Globe Arena district. Stockholm Arlanda Airport, the airport shuttles and the metro will also be dressed for the event.
Countdown Flower on Norrmalmstorg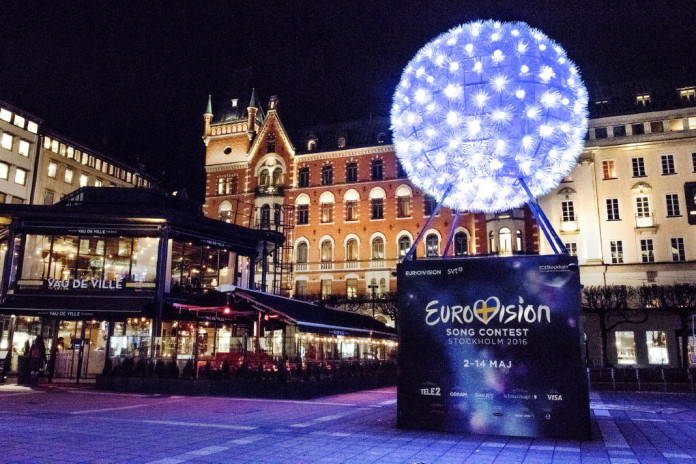 The Countdown Flower on Norrmalmstorg is part of the sound and lighting decoration program for the event. The area around Norrmalmstorg and Kungsträdgården will offer various sound installations: singing tunnels and musical crosswalks.
Five singing tunnels
Urban pedestrian tunnels are places you normally would pass through as quickly as possible, until now. In connection with the Eurovision Song Contest, five singing tunnels will be installed in Stockholm. Magic is created through technology and music. The tunnels will be installed before the event and in place throughout the year.
The tunnels are a kind of interactive sound installation where the visitor's own voice, sound modules and the acoustics of the tunnel interact. The result is a jam session between the visitor and the tunnel! At the entrance to the tunnel, the visitor is invited to sing loudly. But instead of the natural echo, a sampled voice will be heard. The result is the singing tunnel.
"The tunnels only respond to singing, not talking, shouting or traffic noise. The more people singing, the more melodies the tunnel will learn. The idea is that each tunnel will develop their own musical dialect," says Cecilia Wallenius at the Traffic Office in Stockholm.
Here are the singing tunnels
Gullmarsplan Norra
Bredäng Centrum
Londonviadukten
Kirunaplan, Vällingby C
Brunkebergstunneln
Musical crosswalks play new tunes during Eurovision Song Contest
Musical crosswalks will be installed to highlight Stockholm as a city of music in connection with the Eurovision Song Contest. Six signalled controlled crossings around Kungsträdgården have been selected. The standard audio loops will be replaced by two of Sweden's previous Eurovision Song Contest winners; Loreen's song "Euphoria" and Måns Zelmerlöw's "Heroes". "Euphoria" will be played during the red light and "Heroes" during the green light.
"This is our way to contribute to the festive spirit during the Eurovision Song Contest. The project is unique to Stockholm. It is the first time such an attempt has been made, where music and the classic ticking sound is combined," says Henrik Axelsson at the Traffic Office in Stockholm
Here are the musical crosswalks
Skeppsbron-Slottsbacken
Skeppsbron-Strömbron
Kungsträdgårdsgatan- Strömgatan
Kungsträdgårdsgatan- Hamngatan
Hamngatan at the Kungsträdgården bus stop
Hamngatan at Norrmalmstorg
The project will last during the Eurovision weeks.
Over forty countries are participating in this year's Eurovision Song Contest.
---
  Hotels in Stockholm
Book now: Hotels, hostels, B&Bs in Stockholm
---
Source: Stockholm Visitors Board; photo: Visualid/City of Stockholm and Mattias Dahlqvist (flower)