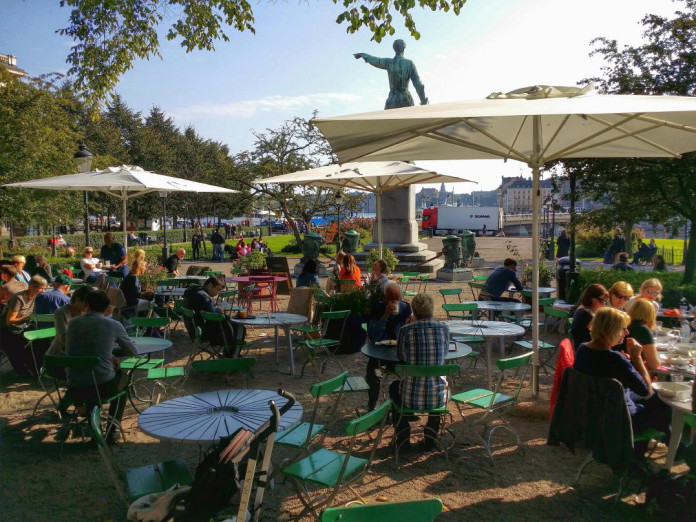 Fika is a common word in Stockholm and all over Sweden, but what does it mean? Simply put, it is the Swedish word for coffee break. Together with friends, family or colleagues, we drink a cup of coffee and eat sweet baked goods, called fikabröd. Fika is a social institution in Sweden; it is a way of socializing.
The fika is an informal event. Having coffee and a sweet is a good way to meet new friends and the perfect first date. But Stockholmers don't only take part in fika at cafés; having a few friends over for coffee is a relaxed alternative to a lunch invitation.
Cinnamon buns and princess cakes
To understand Stockholm's coffee break culture, there are two primary guidelines to keep in mind: A cup of coffee isn't enough. The trimmings are the most important part, and the most common fika sweet is the cinnamon bun. Sweden even celebrates "Cinnamon Bun Day" on October 4 each year. Stockholmers also like various kinds of cookies and baked treats, of course. Perched on its throne with a green marzipan cover, the classic princess cake rules here, with origins in Stockholm's Östermalm neighborhood.
Creativity, work and fika
Fika culture is strongly embedded in society, and in many workplaces, particularly in the healthcare and service industries, it is practically on the schedule. For fifteen minutes in the morning at 10 a.m. and for fifteen minutes in the afternoon at 3 p.m., crowds gather around the coffee pot at offices, colleges and universities in Stockholm.
Swedish business economists have even concluded that a coffee break together is important at workplaces. During the fika break, all forms of hierarchy break down; people drink coffee together regardless of power or position. This is when informal decisions are made and where an information exchange takes place among colleagues from various departments. During the break, people's brains often clear out and fill up with fresh inspiration.
The export of Swedish fika culture
The culture of the Swedish coffee break can be found in several major cities around the world. Some cool cafés and bakeries have opened in London and New York. At 186 Fifth Avenue in ultra-hip Brooklyn, the Swedish flag waves outside the café Konditori, which serves cinnamon buns and, of course, meatball sandwiches. And at Swedish Bageriet near Covent Garden in London, Brits line up to buy "seven kinds of cookies".
Find the right spots in Stockholm's fika jungle
Stockholm has historic cafés and hip new spots with their own niche. Stockholmers love to fika, and every neighborhood puts its own spin on the coffee break.
Fashionistas – Tures in Sturegallerian, Grev Turegatan 11, Östermalm: A popular café and restaurant with a Mediterranean feel. You'll have to fight for a seat on the cozy outdoor terrace in summertime. Website: www.sturegallerian.se/se/tures-brasseri-och-bar
Söder hipsters – Pom & Flora, Bondegatan 64, Södermalm: This is the place to check out the latest in fashion and spot a few celebrities. Of course, you can take home the delightful sourdough bread. Website: www.pomochflora.se
Parents with young kids – Vurma Kungsholmen, Polhemsgatan 15, Kungsholmen: A colorfully decorated café with a wonderfully cozy atmosphere. Popular among moms and dads on parental leave. Website: www.vurma.se
Teenage girls – Espresso House: This coffee chain has approximately 70 (!) locations throughout the city. The offering includes a wide selection of everything you can think of to eat and drink for a fika. Website: www.espressohouse.com/coffee-shops/
Seniors – Vetekatten, Kungsgatan 55, Norrmalm: One of the most classic places to fika in Stockholm, with roots dating back to the 1920s. Their Easter buns have been awarded best in the city two years in a row. Vetekatten is divided into several areas: there is a bakery with savory breads, lunch and sandwiches for take-out, and a genuine coffee house where visitors can have a seat. Website: www.vetekatten.se
Five gems worth at least one visit
Chokladfabriken, Renstiernas gata 12, Södermalm: The ultimate spot for chocolate-lovers, you'll find chocolate in every form here. There are also locations in Vasastan and City. Website: www.chokladfabriken.com/om-oss/
Kaffeverket, St: Eriksgatan 88, Vasastan: A café with everything you could possibly desire: good coffee, nice decor, tasty sandwiches and sweet cookies. Website: www.kaffeverket.nu
The owners of Kaffeverket also run the café at Snickarbacken 7:
Rosendal's Garden Café, Rosendalsterrassen 12, Djurgården: This café has an organic, biodynamic focus. It is located inside of a greenhouse in the beautiful garden. This is the perfect option if you want a little nature and fresh air – just a stone's throw from downtown. We were there on a sunny day in May – read our article here: The Rosendal Garden and Park.
Kaffe, St Paulsgatan 17, Södermalm: So trendy that it could only be in Södermalm. Daniel Craig had coffee here in The Girl with the Dragon Tattoo. Good coffee in a cool space; it doesn't have to be any more complicated than that. No website but a Facebook page.
Café Kaffekoppen, Stortorget 20, Gamla Stan: This cozy café is housed in a building from 1648 right next to Stockholm Cathedral and the Royal Palace. Have a seat outside or poke into the cozy cellar space inside. Website: www.cafekaffekoppen.se
This is how to fika like a Stockholmer
Start with a sandwich (Note! They can be quite big.)
Choose a bun or ask the staff about their specialty. Try a classic, like a cinnamon or cardamom bun. Kladdkaka (a gooey chocolate cake) is also extremely popular.
Finish with small, dry cookies.
Choose brewed coffee; "påtår" is almost always included – free refills when you've finished your cup.
---
  Hotels in Stockholm
Book now: Hotels, hostels, B&Bs in Stockholm
---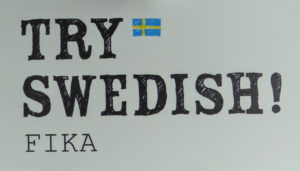 A fika glossary
Fikabröd – Buns, cookies, or baked goods that you eat with coffee during fika.
Cinnamon bun or cinnamon roll – A sweet bread made with sugar and cinnamon. Sweden celebrates Cinnamon Bun Day on October 4.
"Seven kinds of cookies" – A phrase referring to the minimum number of small, dry cookies that should be served on the platter for fika.
Easter bun (semla) – A traditional Swedish dessert consisting of a sweet cardamom-scented bun filled with whipped cream and almond paste and dusted with powdered sugar. Easter buns are traditionally served the day before Lent begins (Fat Tuesday) – but these days, you can enjoy them from January through March.
Princess cake – A sponge cake filled with whipped cream, vanilla cream and covered with marzipan. The marzipan is usually green and has a thin dusting of powdered sugar on top. The cake is often decorated with a pink marzipan rose. The original recipe first appeared in the Princess's New Cookbook from 1948. The treat is called "princess cake" because the author, a home economics teacher in Östermalm, taught the Swedish princesses, who loved the cake.
Friday fika – At three o'clock on Fridays, colleagues gather at workplaces all over the country to drink coffee and eat some kind of fika sweet. They often discuss their weekend plans.
Latte mom/dad – Men and women who spend their time on parental leave visiting cafés and walking around with take-out lattes in hand.
---
  Hotels in Stockholm
Book now: Hotels, hostels, B&Bs in Stockholm
---
Source: This post is based on an article from the Stockholm Visitors Board. The article was published in May 2014. We have updated the information. Last Update November 14, 2016.